See the Dragon Houses Attraction in Evia
Written by Greek Boston in About Evia, Greece, Greek Travel Guide Comments Off on See the Dragon Houses Attraction in Evia
If your travel plans include beautiful beaches with crystal-clear water and soft, exotic sand for you to lay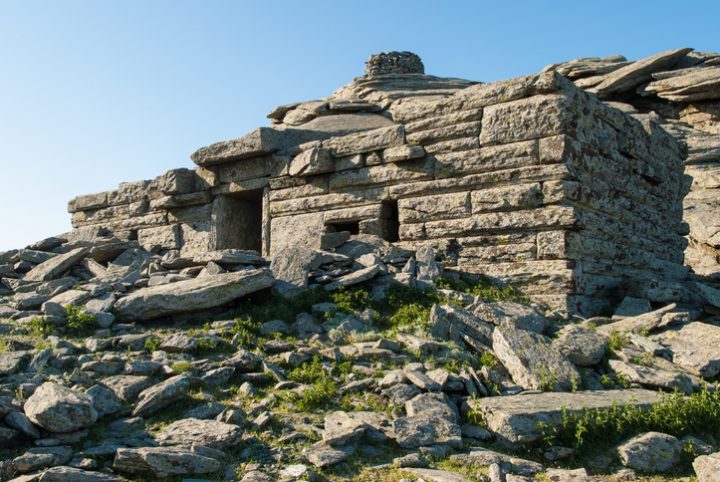 in, you've probably been eyeing a vacation to Greece. In addition to their rugged mountains and lush forest, the beauty and diversity of Greece will draw you in like no other vacation spot.
However, to vacation properly in Greece means taking in more than the beautiful beaches. Continue reading to discover the historic, massive buildings on the southern, or mountain side of the island of Euboea, Greece, known as the Dragon Houses, or Drakospita, of Evia, Greece.
About the Dragon Houses of Evia, Greece
Although not widely known by tourists, the Dragon Houses of Evia are famous landmarks in Greece and are an archaeological mystery. There are 23 of the limestone-rock buildings, and it is guessed that they were used as sanctuaries, churches, shelters, or lookout spots. The dragon houses are spread across the island of Euboea, located off the eastern part of Greece.
There is also a mystery about how long the Dragon Houses have been there; some believe is since the 18th century. However, they were found in 1797 by a British geologist. It is Greek legend that dragons built these houses for several reasons: the enormous rocks and the dragons had supernatural strength. If humans created them so far, no one knows who they could have been.
Since being discovered, many archaeologists have visited the Dragon Houses, trying to get more details. In 1959 because more visitors were looking at the Dragon Houses, they decided to make sure the structure was sound. At that time, they found some text in an unknown script saved for a museum. In 2002 and 2004, other researchers concluded that the Dragon Houses were originally astronomical observatories.
What to Do at the Dragon Houses of Evia, Greece
Those visiting Nea Stira, Karystos, or Marmari are close and usually into walking tours and architecture, making the Dragon Houses great attractions. In addition to great stories surrounding the mountains and the Dragon Houses, the well-preserved buildings are massive and well-constructed, making the ancient sights once-in-a-lifetime observations. However, although there are Dragon Houses in Styra and all over the island, the best-preserved one is located on top of Mount Ochi.
Although it may not be necessary, bringing a set of binoculars is a great idea so that you can take in the breathtaking views and understand how the houses are strategically placed and give an observer a lot of territory to see for a great distance.
Getting to the Dragon Houses of Evia, Greece
Although some signposts indicate the direction of some of the Dragon Houses, others are in remote locations and not easy to access. So distant that rocks need to be moved from the road for cars to cross. Most people drive as close as possible to the Dragon Houses, park, and then hike the hour to the actual house.
In addition, if you are visiting Athens, a popular tourist attraction in Greece, you have options for getting to Evia (which is quite large) and those include car or boat. However, the shoreline is on the east of Evia which would mean a car ride then hike to the Dragon Houses.
PLEASE NOTE: The Greek travel section at GreekBoston.com are not paid reviews. Our unbiased and informative travel articles are designed review the popular cities, islands and places in Greece. We are not always able to exactly match the photos to the destinations, but we do try to get close. However, we are not looking for photo submissions at this time. If you find something in a Greek travel article that is not accurate based on your personal experience, please send us an email to greekboston@worldwidegreeks.com and we will consider your suggestions. Thanks for reading the travel section at GreekBoston.com!
Categorized in: About Evia, Greece, Greek Travel Guide
This post was written by Greek Boston
Share this Greek Travel Article: