Visit Beautiful Elafonissi Beach in Crete
Written by GreekBoston.com in About Crete Greece, Greek Travel Guide Comments Off on Visit Beautiful Elafonissi Beach in Crete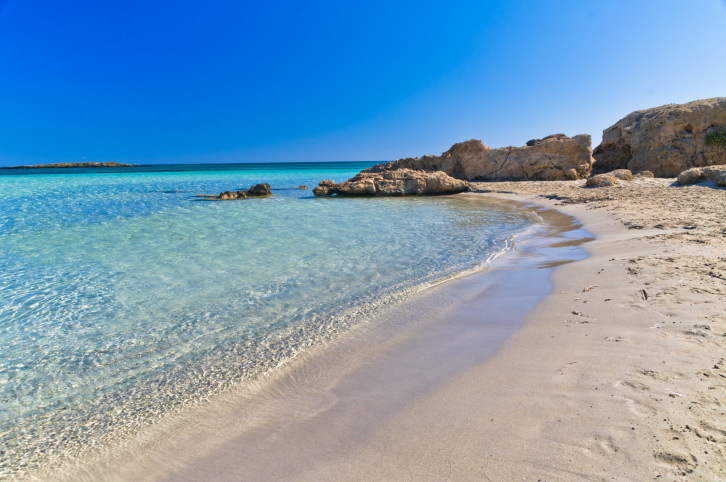 As Greece's largest island, Crete offers a wealth of experiences for tourists. There are cities like Heraklion and Chania that have plenty of things to see and do. Crete also has plenty of mountains that can satisfy even the most avid of outdoorsmen. There's also roughly 650 miles worth of coast on Crete, which means that there are more than enough beaches to keep even the heaviest of beach goers happy. Among those, Elafonissi beach stands out for its beauty and charm and is definitely worth a visit while on the island,
Even though the island of Crete has a sizable population, there are parts that are relatively wild and untouched by modern civilization. Most of the population is fairly concentrated to the cities and their surrounding areas. Elafonissi, in many ways, feels like a secluded and isolated beach, which is a rarity on a popular island such as Crete.
However, even though there is an element of seclusion at this beach, it's also very popular. The reason for this is that the beach isn't as easy to get to as some of the other ones on the island. Visitors need to traverse a winding mountain road to get there, and there are plenty of tour groups that go there. Even though it's a little out of the way, it is still a highly popular beach that draws in a large crowd, especially at peak season.  Since Crete is Greece's southernmost island, the weather stays nice for most of the year. It's possible to find excellent beach weather long after the tourists have gone home. So if solitude is your goal, avoid Crete during July and August, which are its busiest months.
If you do decide to spend some time here, it's a good idea to be prepared. There is a restaurant at the beach area. However, it may not be open while you're at the beach. It's best to bring a picnic lunch and your own beverages just in case the restaurant is closed. The beach does have bathroom facilities but there is a small fee for using it, so bring plenty of change.
This is the type of beach where you arrive, pick your ideal spot, and spend the day. While here, you can soak up the sun while enjoying the stunning views of the sea and the surrounding area. The sand is warm and soft. The water is a clear blue color that sparkles in the sunlight. Since the water is shallow and warm, it makes bathing in it especially pleasant.
If you're feeling particularly adventurous, walk through the water to the island. The water is pretty shallow and the walk to the island normally doesn't require swimming. If you have small kids, keep them close, just in case. Once on the island, you can explore some of the scenery and even sit at one of the beaches. There's also a lighthouse that's worth exploring. You may want to bring a flashlight if you decide to explore the lighthouse.
Categorized in: About Crete Greece, Greek Travel Guide
This post was written by GreekBoston.com
Like this article? Please share below: