Best Ways to Enjoy Nature on the Greek Island of Zakynthos
Written by GreekBoston.com in About Zakynthos, Greece, Greek Travel Guide Comments Off on Best Ways to Enjoy Nature on the Greek Island of Zakynthos
Zakynthos is one of those islands that is particularly known for its natural beauty, which means that once you arrive here, you'll surely want to find some ways to enjoy it! Whether you wander over to the western side of the island to observe its thick forests or prefer to enjoy its beauty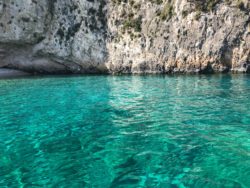 from the comfort of a lounge chair on the beach, there is something on this island for everyone. Here are some ideas on how you can enjoy nature on the beautiful island of Zakynthos:
Spend Some Time at the Beach
There are several beaches located here that are considered amongst the most beautiful in all of Greece! Many of them, such as Navagio Beach, have some distinct features. Not only is the water a gorgeous, crystalline blue, but there is also a shipwreck here that makes for some unique photo opportunities. Porto Limnionas Beach is also worth a visit, especially since it is filled with natural rock features, some of which surround pools of warm seawater. No matter which beach you decide to visit, however, you will be treated with a unique aspect of Zakynthos' stunning scenery. Other beaches include Kalamaki Beach, Gerakis Beach, and the Xygia Sulfur Beach.
Visit Some of the Island's Caves
Another thing that Zakynthos is known for are its caves. There are several throughout the island, but not all of them are easily accessible for visitors. Consider visiting the Blue Caves, which jut on top of the water and also make for a great photo opportunity. You can also rent a kayak or canoe and paddle right up to the caves from the shore. Since many of the island's caves are located at the shore, you can also charter a boat or take a tour that will bring you around to some of the island's best caves and alcoves. Besides the Blue Caves, you should also find a way to visit the Keri Caves, which have an even more stunning view than the Blue Caves do.
Take an Excursion to Marathonissi
Marathonissi, or Turtle Island, is a small island located off the coast of Zakynthos that is particularly known for attracting turtles to its shores. You can easily book a boat excursion here from some of the islands. Be sure to bring your camera because aside from looking out for turtles, there are also some stunning views from the island. During your excursion, you will also have the chance to go for a swim in the warm waters.
Visit Cameo Island
Are you looking for a small island that affords stunning views of the whole area? Cameo Island is one of those small islands that is easily accessible from Zakynthos. It's small, but you don't need to rent a boat to get here. You can trek to it by using the small wooden bridge that connects it to the mainland. Take a few pictures of the surrounding area and explore the rocks before you head home. Cameo Island also makes for a nice swimming hole.
When on the Greek island of Zakynthos, you won't want to miss the chance to enjoy nature doing these activities!
Categorized in: About Zakynthos, Greece, Greek Travel Guide
This post was written by GreekBoston.com
Like this article? Please share below: