Find Great Hospitality on the Aegean Island of Chios
Written by GreekBoston.com in About Chios, Greece, Greek Travel Guide Comments Off on Find Great Hospitality on the Aegean Island of Chios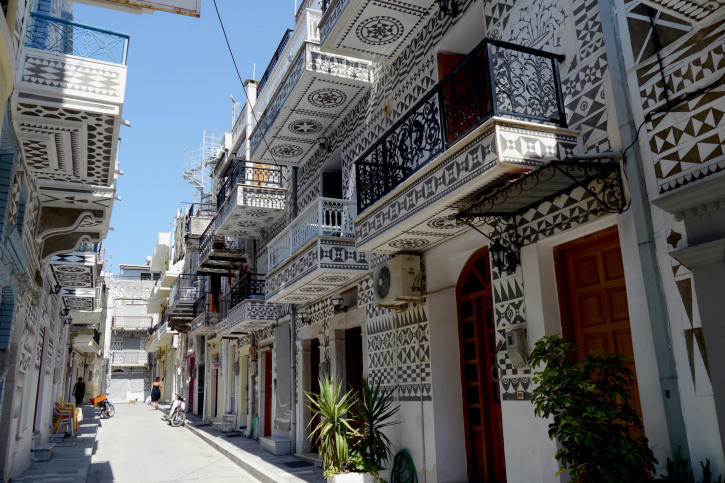 Because Chios sees fewer visitors than better-known Greek islands, tourists can find great hospitality and opportunities for interaction with friendly inhabitants and Chian culture. The locals take great pride in their history, traditions, and livelihood.
Chios Town is the busy commercial main port and capital of Chios, located on its east coast across from Turkey. Half of the island's population lives here. It's not much to look at during the day, since the buildings are mostly unattractive and outdated, but it's much more beautiful at night, by the water and under the stars.
At the Bazaar District merchants sell everything from local mastic gum, bread, and kitchen utensils. Chios is significant in history as the ancestral home of shipping barons and The Chios Maritime Museum showcases shop models and portraits of vessels that have belonged to Chios owners over time. It highlights the ships that were constructed during World War II that contributed to the beginning of Greece's shipping industry.
The Old Quarter features old Muslim and Jewish neighborhoods full of decaying monuments, fountains, baths, and mosques. The Kambos District just south of Chios Town is a fertile plain of tangerine, lemon, and orange groves. It's the inspiration for the Citrus Museum, which showcases the history of citrus products on the island. Its shop and café sell citrus-inspired treats. In Greek the museum is called "the aroma of memories". If you are looking for a beach, the nearest beach resort is Karfas, south of Chios Town, which gets very busy during the summer months.
Hidden among the olive groves is the island's most important monastery, the 11th century Nea Moni. It was built where three monks found an icon of the Virgin and is one of the finest displays of mosaic art anywhere. The design of the Nea Moni, a single square space covered by a dome, is rarely seen in Greece. Inside the grounds are an ancient refectory, a vaulted cistern, a chapel filled with victims' bones from the massacre at Chios, and a large clock still keeping Byzantine time.
Pirgi, in southern Chios, is the largest of the mastic villages that were built to defend residents from pirate attacks. Today the village depends on sales of mastic gum and tourism. Pirgi's primary appeal is its aesthetics. Many buildings are stenciled top to bottom in patterns of animals, flowers, and geometric designs. More than 50 churches can be found in this village.
Mesta is the best preserved of the mastic villages, which sits inside a system of 3 foot thick walls as protection. Many art galleries and boutiques can be found here. The Church of Megas Taxiarchis, one of the largest and wealthiest churches in Greece, commands the main square.
Categorized in: About Chios, Greece, Greek Travel Guide
This post was written by GreekBoston.com
Like this article? Please share below: