About Kallithea Springs on Rhodes Island
Written by Greek Boston in About Rhodes Island, Greece, Greek Travel Guide Comments Off on About Kallithea Springs on Rhodes Island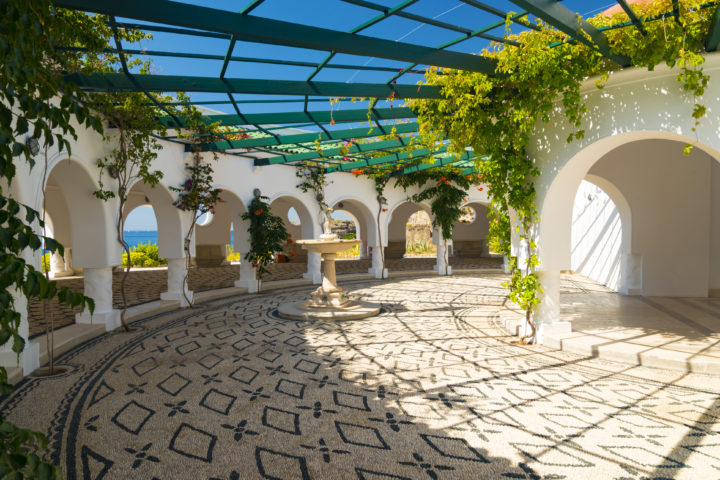 The springs of Kallithea in Rhodes Island have a long and impressive history. The site is famous for it's healing springs and it has been known for this since ancient times. The spas have had a turbulent history and they often fall into disrepair and close. Currently, the springs have been refurbished and according to the website, are currently open for business. Here's more information about the springs: 
Getting to Kallithea Springs
Rhodes island is a transportation hub for the Aegean Sea, so you will have no trouble getting there. You can get to Rhodes island by ferry or by plane. The springs of Kallithea are located at the bay of Kallithea approximately 9 km from the city of Rhodes. Getting to the springs is possible via taxi, bus, car, and bicycle. It's worth it to make the trek here while you're on the island!
History of the Springs of Kallithea
Since ancient times, the springs of Kallithea were known for its therapeutic powers. They were believed to be able to treat many conditions including: diabetes, arthritis, allergies, asthma, dysentery, malaria, intestinal conditions, and more. People from surrounding islands would come to the springs of Kallithea to bathe and heal. In 1912 the Italian governors of Rhodes had a study of the waters done by distinguished doctors and hydrologists. The first buildings were constructed above the springs in late 1928. The project took only a few month to complete. The facilities were inaugurated in July of 1929 and remained open until 1967. The spa, with its pebble stone mosaics, terrace, Rotonda Hall, and impressive gardens with pine trees and palm trees, attracted patients and scientists from around the world. Toward the end of the 20th century the spa fell into disrepair, but was eventually renovated and reopened in 2007.
What to Do at the Springs
The unique architecture at Kallithea Springs still features the Rotonda Hall, pebble stone mosaics, terrace, and impressive patio and staircases at the the entrance, which creates a nostalgic feel. The view of the beautiful bay and its crystal clear waters add to the calming ambience. You can go swimming or sun bathe at the bay. Sun beds are available as is waiter service. The historic café has been restored and now also operates as a beach bar. Festivals, concerts, exhibitions, and cultural and artistic events are held at Kallithea Springs. Allow yourself a couple of hours to stroll around and explore. Be advised there is an entrance fee. There is no shortage of things to do in the around Kallithea Springs. Beaches include: Jordan Beach, Oasis Beach, and Nikolas Beach. You can take a boat tour around the area or go diving. You might even be interested in a Segway tour. Just 3 km from Kallithea Springs there is a water park, which has won the certificate of excellence. For a bite to eat you can visit Pane di Capo, which serves Italian, Mediterranean, and international dishes. Antonio Pizza Pasta, Christos Family Taverna, and Noble Gourmet Restaurant are also close by. When visiting Rhodes Island, you won't want to miss seeing the historical Kallithea Springs. The historical site will impress you and the surrounding scenery will delight you.
PLEASE NOTE: The Greek travel section at GreekBoston.com are not paid reviews. Our unbiased and informative travel articles are designed review the popular cities, islands and places in Greece. We are not always able to exactly match the photos to the destinations, but we do try to get close. However, we are not looking for photo submissions at this time. If you find something in a Greek travel article that is not accurate based on your personal experience, please send us an email to greekboston@worldwidegreeks.com and we will consider your suggestions. Thanks for reading the travel section at GreekBoston.com!
Categorized in: About Rhodes Island, Greece, Greek Travel Guide
This post was written by Greek Boston
Share this Greek Travel Article: