Kalymnos is One of the Wealthiest Greek Islands
Written by GreekBoston.com in About Kalymnos, Greece, Greek Travel Guide Comments Off on Kalymnos is One of the Wealthiest Greek Islands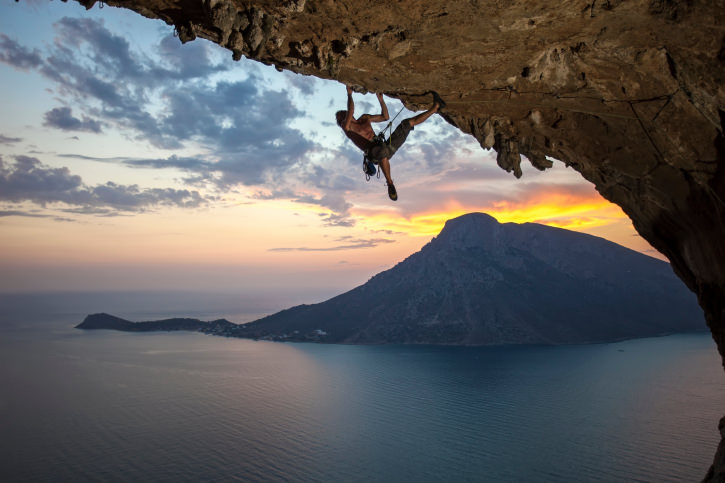 Kalymnos is the third largest Dodecanese island in the southeastern Aegean Sea. It is one of the wealthiest of all the Greek islands. It is known for its history of sponge diving and is even called "Sponge-divers' island". Sponge Week celebrates this history each year the week after Easter. Kalymnos is also known for its rugged, vertical cliffs that attract climbers from across the world. An annual climbing festival is held each year in May.
The capital and port of Kalymnos is Pothia. It was once Greece's sponge diving capital. Today, its harbor attracts visitors with its selection of bars and restaurants. Pothia has two museums to visit. The archaeological museum includes a variety of artifacts that span from around 2500 BC to as recently as 2001. Behind the main building of the archaeological museum is the Mansion of Nickolas Vouvalis, a wealthy 19th century sponge trader. The rooms in the mansion appear just as they did when Vouvalis lived there. The second museum, the Nautical and Folklore Museum features displays on the traditional regional dress and the history of sponge diving. It is located in the center of the waterfront area.
South of Pothia is the Kalymnian House Museum, another worthwhile site of Kalymnos. This museum is located in a small traditional home. Visitors learn about local Kalymnos customs through guided tours that are available in English.
Northwest of Pothia on the east side of the valley is Pera Kastro, a pirate-proof village that was inhabited until the 18th century. Visitors today will find the ruins of stone houses and 15th century churches. The climb up the steps to Pera Kastro from the main road in Horio offers excellent views of the surrounding area.
Continuing in that direction, you'll come to Panormos, a pretty village that was originally named Elies, which means olive trees. When the trees were destructed during World War II, the village was renamed. In the area are the beaches of Kandouni and Linaria. Cafes, bars, and hotels surround Kandouni while Linaria is found to be much quieter.
Continuing north along the west coast are the resorts of Myrties, Masouri, and Armeos. This stretch of road is lined with restaurants, bars, souvenir shops, and markets. Myrties beach is separated from Masouri and Armeos beaches by an extinct volcano plug. Telendos Islet is located off the coast and is a quick 10-minute boat ride away from Myrties. This remote and artsy island was once a part of Kalymnos but was separated due to an earthquake in 554 AD. The islet offers an escape from the main island and is free of traffic. There are several small beaches. It's also a popular climbing destination.
Travel along the scenic west coast and around Arginonda Bay to arrive at Emborios. This quiet village has a small pebble beach and crystal clear waters.
Vathys, on the east coast of Kalymnos about 8 miles northeast of Pothia, is considered to be one of the most beautiful parts of the island. Roads wind through citrus orchards and its small harbor, Rina, is where water taxis take tourists to the nearby coves of Almyres and Drasonda. A cliff diving competition is held here as part of the International Diving Festival.
PLEASE NOTE: The Greek travel section at GreekBoston.com are not paid reviews. Our unbiased and informative travel articles are designed review the popular cities, islands and places in Greece. We are not always able to exactly match the photos to the destinations, but we do try to get close. However, we are not looking for photo submissions at this time. If you find something in a Greek travel article that is not accurate based on your personal experience, please send us an email to greekboston@worldwidegreeks.com and we will consider your suggestions. Thanks for reading the travel section at GreekBoston.com!
Categorized in: About Kalymnos, Greece, Greek Travel Guide
This post was written by GreekBoston.com
Share this Greek Travel Article: