Visit Knossos Palace on Crete
Written by Greek Boston in About Crete Greece, About Heraklion, Greece, Greek Travel Guide Comments Off on Visit Knossos Palace on Crete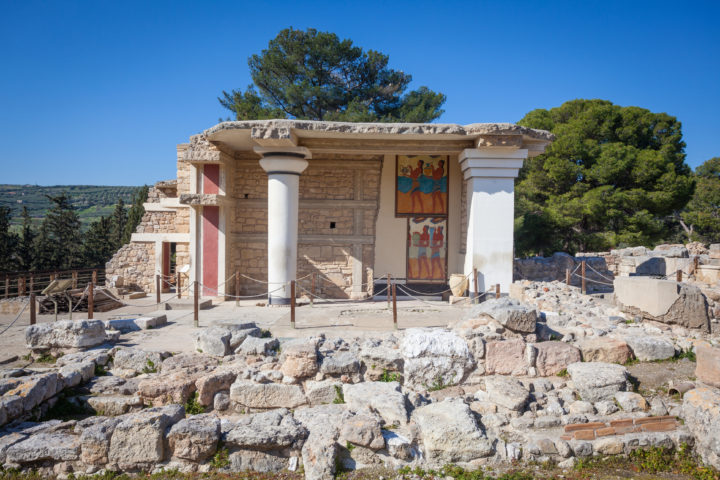 The Greek island of Crete is full of wonders to explore. Beyond the beauty of the island you will find in the gorges, rivers, and beaches, there are places of historical importance. One of these spots is Knossos Palace. Here's what you should know about Knossos Palace in Crete, Greece.
About Knossos Palace
Traditionally called a palace, the archaeological site of Knossos on the island of Crete, is one of the most popular tourist attractions in Greece. The site hosts hundreds of thousands of tourists every year who come to see the extensive restorations that were done by the site's excavator, Sir Arthur Evans, during the early 20th century. The first excavation of the site was done in 1878 by Minos Kalokerinos. The next excavations were done by Evans in 1900 – 1913 and 1922 – 1930. Evans excavations would undercover much of the palace.
Sir Arthur Evans restorations were important for a few reasons. If he had not done this work to preserve, restore, and protect Knossos, much of it may have been lost. The restorations done also help visitors to get an accurate look at and understanding of the importance of spaces such as the Throne Room. Not all of the restorations done by Evans is accurate, but they give insight into the skill of Minoan painters and architects.
The Minoan palace covers an area of 20,000 square meters. Knossos Palace had impressive features including a variety of materials used, painted plaster, wall-paintings, passages, and marble revenant. There are also signs of advanced technology used by the Minoans in the structural and architectural features as well as drainage and water-supply systems.
Visit Knossos Palace on Crete
Knossos Palace is a historical attraction that will complete your trip to Crete. Knossos Palace is located 5 km from Heraklion, the capital of Crete. The site is very large, but you can take a guided tour or if you prefer you can walk around and explore on your own. If you take an organized tour of Knossos Palace, you won't have to worry about transportation and you will have the benefit of a knowledgable guide. A guided tour of the palace takes about two hours. If you tour Knossos Palace on your own, there are many informative boards so you'll know exactly what you're looking at.
You can buy a combined ticket that will allow you to see both Knossos Palace and the Heraklion Archaeological Museum. The museum is not on the site of the palace, but it is a good place to visit if you want to view findings from Knossos Palace that will help you get a better understanding of the site.
Getting to Knossos Palace can be done by taxi, public transportation, or car. If you drive, there is plenty of parking near the site. Knossos can be reached from the Iraklio bus station. The bus goes directly to Knossos, it is the last stop.
PLEASE NOTE: The Greek travel section at GreekBoston.com are not paid reviews. Our unbiased and informative travel articles are designed review the popular cities, islands and places in Greece. We are not always able to exactly match the photos to the destinations, but we do try to get close. However, we are not looking for photo submissions at this time. If you find something in a Greek travel article that is not accurate based on your personal experience, please send us an email to greekboston@worldwidegreeks.com and we will consider your suggestions. Thanks for reading the travel section at GreekBoston.com!
Categorized in: About Crete Greece, About Heraklion, Greece, Greek Travel Guide
This post was written by Greek Boston
Share this Greek Travel Article: