Lefkada Is the "Sleeper Hit of the Ionians"
Written by GreekBoston.com in About Lefkada, Greece, Greek Travel Guide Comments Off on Lefkada Is the "Sleeper Hit of the Ionians"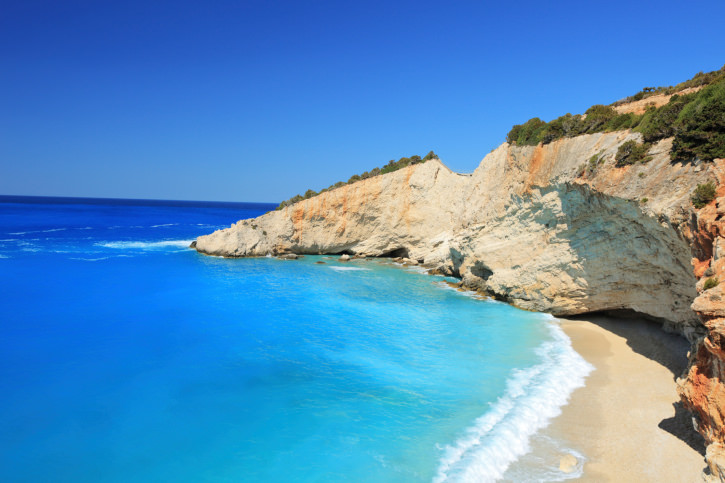 Lefkada has been called the "sleeper hit of the Ionians". While mountainous and remote in the center, its west coast is home to some of the best beaches in all of Greece. Lefkada was once attached to the nearby mainland by a narrow isthmus until it was breached with a canal in the 8th century BC.
Lefkada Town at the northern tip of the island is Lefkada's busy main town. It was ruined by an earthquake in 1948 but was then rebuilt in a quakeproof style. The town's pedestrianized main street, Dorpfeld, is lined with fancy shops and trendy eateries.
It meets Plateia Agiou Spyridonos, a lively area of activity both day and night that features plenty of cafes and bars. The Archaeological Museum contains island artefacts that span from the Paleolithic to the late-Roman periods. The Collection of Post-Byzantine Icons includes works by icon painters from the Ionian school and Russia dating back to 1500. The Fortress of Agia Mavra is a 14th century fortress. Its remains date from the Venetian and Turkish occupations. Visit the Moni Faneromenis for the views of the lagoon and visit its museum that holds ecclesiastical art from around the island.
The east coast of Lefkada continues to see heavy tourist development. Nydri, once a quiet fishing village, is now a crowded strip of tourist shops. Take a walk 2 miles out of Nydri to visit beautiful waterfalls. If you have transportation, the relaxed harbor of Syvota (9 miles south of Nydri) is worth visiting. It's filled with fishing boats and yachts.
The west coast of Lefkada is where the beach-goers want to be. It's made for postcard pictures and the beaches feature turquoise water and white sand. The popular beaches down the coast include Pefkoulia, Kathisma, Megali Petra, Avali, Egremni, and Porto Katsiki. The picturesque town of Agios Nikitas is perhaps the most popular, where you can find the attractive Mylos Beach.
Central Lefkada is comprised of traditional farming villages, green mountains, pine trees, olive groves, and vineyards. Karya is the busiest tourist village in central Lefkada. It is famous for its embroidery that was introduced in the 19th century by Maria Koutsochero, a one-handed local woman. Visit the Museum Maria Koutsochero to find period embroidery. Englouvi, the island's highest village is renowned for its honey and lentil production.
Vasiliki is Lefkada's famous beach in the south on Vasiliki Bay. This stony beach is known as one of the best windsurfing spots in all of the Mediterranean. Beginners can enjoy the soft breezes in the morning and the experts can take advantage of the whipping winds that come in the afternoon
Categorized in: About Lefkada, Greece, Greek Travel Guide
This post was written by GreekBoston.com
Like this article? Please share below: