What to Do While Visiting Ios Island
Written by Greek Boston in About Ios, Greece, Greek Travel Guide Comments Off on What to Do While Visiting Ios Island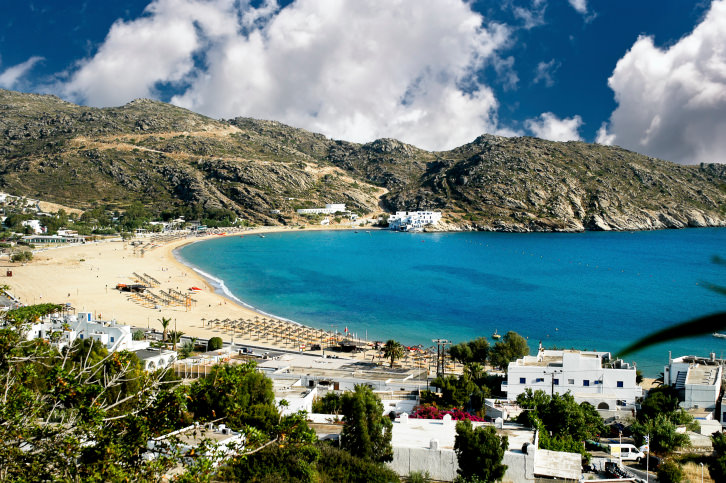 Sun soaked beaches nestled against the hills and the crystal blue water is beckoning you to relax and enjoy life. While this sounds like it good be nearly anywhere in Greece, there's something about Ios that feels extra special. Perhaps it's the windmills that jut out of the hills, a reminder of how important the environment is to the people of the island. Maybe it's the special welcome guests always receive from the locals. Mostly though, Ios has a charm all its own and because it doesn't receive the throngs of tourists that some of the other islands do, you feel as if the place exists only for you.
Base Your Trip in Chora
Chora is the capital city of the island, which means that there are plenty of options in terms of hotels, restaurants, and nightlife. Many of the island's top beaches are centered on Chora, as well. Hotels range from smaller, family owned operations, to much larger resorts. You can even find a villa rental – an option that is especially worthwhile if you're staying on Ios for an extended period of time.
Spend Time at the Beach
Ios has some of the prettiest beaches in all of Greece and many of them are near Chora. Mylopotas Beach is just a few kilometers south of Chora and has a variety of activities for people to enjoy. Spend the day sitting in one of the lounge chairs, go windsurfing or snorkeling, or overlook the blue waters from one of the seaside bars or restaurants. Other beaches near Chora include Gialos, Kolitsani, and Koumbara. If you want to find a quiet beach, you'll need to venture further away from the city. Manganari is about 20 km from Chora and therefore doesn't get the crowds that the beaches closer to the city experience.
Visit the Tomb of Homer
Did you know that Homer was buried on Ios? Visiting his tomb is a definite must-see while on Ios! Paying respects to the author of the the Iliad and the Odyssey serves as a reminder of just how the Ancient Greek culture still affects Modern Greece today. Because of people like Homer, we have a better understanding of what Ancient Greece was like. Not only that, but his influence is felt in literature even today.
Eat the Local Cuisine
As is the case throughout Greece, the cuisine on Ios is distinct and flavorful and has close ties to the land. Since it's an island, seafood constantly finds its way on restaurant menus, some of which don't even have menus. They just assess nature's bounty and offer their guests tasty dishes based on what's available. Because of that, the food is extremely fresh and lovingly prepared by master chefs who grew up learning how to use the land to help them prepare nourishing foods. Restaurants that do have established menus created them based on the foods that are readily available on a constant basis.
If you like to spend some time "out on the town" your best bet is to find a bar or taverna in Ios or one of the island's more popular beaches. Many of these establishments are also restaurants, a reminder that food and drink go hand in hand in the Greek culture.
PLEASE NOTE: The Greek travel section at GreekBoston.com are not paid reviews. Our unbiased and informative travel articles are designed review the popular cities, islands and places in Greece. We are not always able to exactly match the photos to the destinations, but we do try to get close. However, we are not looking for photo submissions at this time. If you find something in a Greek travel article that is not accurate based on your personal experience, please send us an email to greekboston@worldwidegreeks.com and we will consider your suggestions. Thanks for reading the travel section at GreekBoston.com!
Categorized in: About Ios, Greece, Greek Travel Guide
This post was written by Greek Boston
Share this Greek Travel Article: