Visit The Modern Greek Art Museum in Rhodes Old Town
Written by GreekBoston.com in About Rhodes Island, Greece, Greek Travel Guide Comments Off on Visit The Modern Greek Art Museum in Rhodes Old Town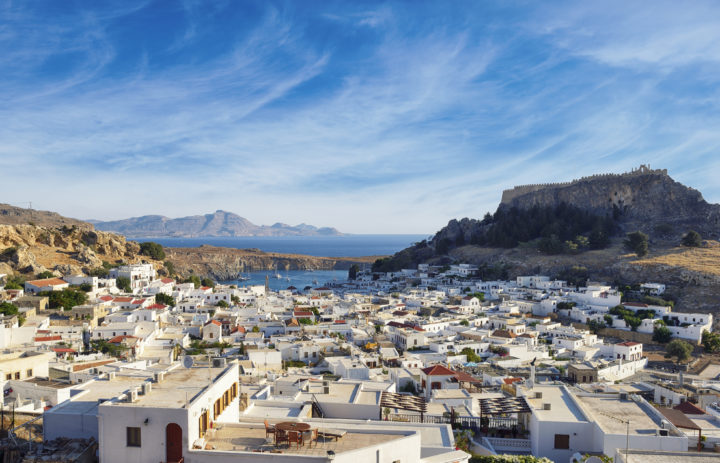 The Modern Greek Art Museum is located in the Knights' Quarter of the Municipality of Rhodes, an area that contains most of the medieval historical sights of Rhodes. It features significant modern Greek art of the 20th century that was chosen in order to narrate the history of art. It presents extensive painting and engraving collections and sculptures, drawings, and documents of historical value. According to the Modern Greek Art Museum website, "the central idea of all these collections is to present the history of Greece through the eyes and the soul of Greek artists of the 20th century."
Exhibits in the Modern Art Museum
The Modern Greek Art Museum comprises three exhibition halls. The Art Gallery is located in a historical building located near the entrance of the medieval town (Symi square). It holds the exhibition of engraving where you can see maps and works of engraving on the island of Rhodes and the Dodecanese. The New Art Gallery in the Square G. Charitou building features paintings, engravings, and sculptures from some of Greece's most popular 20th century artists including Gaitis Giannis, Vasiliou Spiros and Katraki Vaso. The Center of Modern Art is located on Socrates Street, one of the most public roads of the Medieval Town, and holds the museum's temporary exhibits.
The paintings collection of the Modern Greek Art Museum includes works of art by approximately 150 artists. The works of art "cover almost all the artists who have contributed in the formation of the face of Greek painting and in many cases some of their masterpieces. This collection gives the opportunity to the visitor to have a complete image of the cultural activity of Greece which was created by artists who were born since 1963 and onwards." The engraving collection displays the evolution of Greek engraving starting in the beginning of the 20th century. Highlights of the sculpture collection include "El Greco" by Apartis Thanasis in 1957, "Suicide Helmet" by Theodoros in 1964, and "Wounder Soldier" by Kapralos Christos in 1957.
Shows and Activities at the Modern Greek Art Museum
The Modern Greek Art Museum is involved in shows and activities. "These include a) organizing exhibitions regarding the modern Greek art of the 20th century with domestic and international appeal b) organizing avant-garde site installations c) hosting shows of eminent Greek and foreign artists and historical documents d) coordinating and supporting exhibitions of Dodecanesian artists."
In 2000 The Museum created the department of Educational programs to follow the contemporary and international philosophy of converting museums into educational spaces. The goals of the department are to "familiarize the public with the world of art, have constant contact with schools, teachers, educational institutions and groups of every age, publish books of art and other educational material, send this material to remote schools of Greece, maintain good relations with the local community, and communicate through art with the Greeks that live abroad".
Categorized in: About Rhodes Island, Greece, Greek Travel Guide
This post was written by GreekBoston.com
Like this article? Please share below: