Monasteries to Visit in Halki, Greece
Written by GreekBoston.com in About Halki, Greece, Greek Travel Guide Comments Off on Monasteries to Visit in Halki, Greece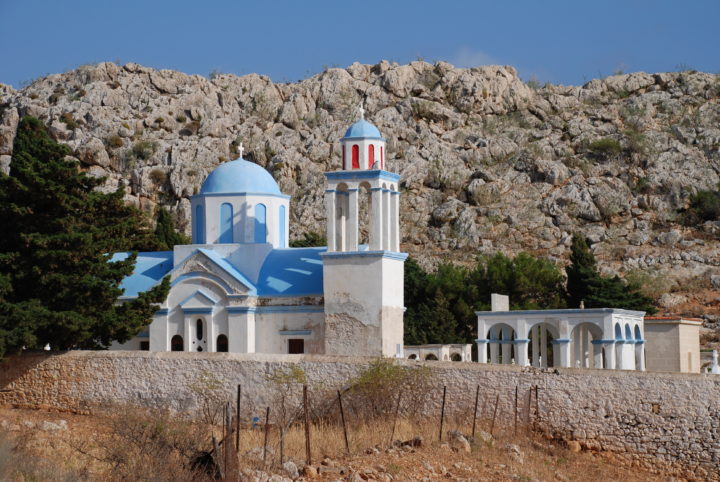 Halki, Greece is an island that has remained untouched by mass tourism. Don't underestimate this little island though. It has a lot to offer visitors. It serves as a wonderful place to relax for those who have spent time on Rhodes island surrounded by crowds and exploring non-stop. Halki's close proximity to Rhodes makes it the perfect getaway.
Halki Island features traditional architecture, secluded beaches, and attractions to explore. Some of these attractions include the monasteries and churches that can be found on the island.
Monastery of Agios Ioannis Alargas
Located on the western side of the island of Halki, the Monastery of Agios Ioannia Alargas can be found in a remote area. The monastery is located just 7.5 km from Nimborio, the main settlement of the island's residents. The Monastery of Agios Ioannis is dedicated to the beheading of John the Baptist. Tradition says that sponge fishermen of Halki island considered John the Baptist their savior. The monastery was built during the 19th century. If you're interested in staying overnight at the Monastery of Agios Ioannis, you can make arrangements to do so. The location of the monastery offers a wonderful panoramic view of the surrounding areas.
Monastery of Taxiarhis Michael Panormitis
The Monastery of Taxiarhis Michael Panormitis/Panorniotis is located on the hill of Agios Onoufrios. The monastery has a double vaulted roof and features Byzantine murals. Some of the murals, the first layer, date back to the 13th century. The second layer dates to the 14th century. These works of art are definitely worth the visit to the monastery. The courtyard of the Monastery of Taxiarhis Michael Palarniotis features a pebble mosaic of geometric shapes that are a great example of Dodecanese art. This monastery also offers a breathtaking panoramic view that overlooks the Aegean Sea.
Church of Agios Nikolaos
Located in the village of Nimborio, the Church of Agios Nikolaos is full of history. This is the main church of the island of Halki. The church features a tall bell tower, which is the tallest in all of the Dodecanese, and beautiful frescoes on the inside. Lovely mosaics of black and white patterns decorate the courtyard of the church. There are tall trees around the church the offer shade.
The church of Agios Nikolaos in Halki dates back to the Byzantine era and it was built on the ruins of an ancient temple. A reconstruction took place during the 18th century, which is what you see today. At the entrance of the church you will see an eye with writing below it that says "It is the eye of justice that sees it all." The location of the church is quite charming. You can explore Nimborio and if you can catch the sunset from the village, you won't regret it.
The monasteries and churches of the island of Halki are an attraction you won't want to miss. The history, coupled with the beauty, making them a must-see.
Categorized in: About Halki, Greece, Greek Travel Guide
This post was written by GreekBoston.com
Like this article? Please share below: