Monasteries To Visit in Kythnos, Greece
Written by GreekBoston.com in About Kythnos, Greece, Greek Travel Guide Comments Off on Monasteries To Visit in Kythnos, Greece
The island of Kythnos offers true Cycladic architecture, especially in the capital of Messaria (or Hora). Whitewashed houses with blue windows, light blue domes, alleys, and stone windmills make Kythnos a delightful place to visit. In Driopida you will find two-storey houses with red-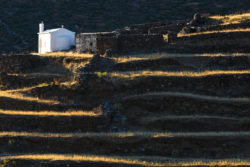 tiled roofs. The mountains and the deep blue waters of the Aegean Sea add to the beauty of the area.
The closest airport to Kythnos is in Athens. From there you can take a three-hour ferry ride from the port of Piraeus to the island of Kythnos. The ferry ride is about 3 hours long, but don't let this deter you. Enjoy the view from the sea of the surrounding landscapes. It's definitely something you won't experience anywhere else.
Kythnos is home to monasteries and churches that are well-worth a visit when you're in the area.
The Monastery of Panagia Kanala
The Monastery of Panagia Kanala is the patron of the island. It is considered the most important religious monument on the island. The monastery is located above the village of Kanala. It is the oldest monastery on the island, having been build in 1869 on the site of an older church. Legend says that local fishermen found an icon of the Virgin Mary in the strait between Serifos and Kythnos. A column of light is said to have guided the fishermen right to where the icon was located. Though the icon is not at the monastery today, a work of art stands in its place.
The Monastery of Panagia tou Nikous
Located on the eastern side of Hora and built on the remains of ancient temples, you will find the Monastery of Panagia tou Nikous. The name comes from the word "nikopoios," which means victory-maker. The monastery can be reached by car or foot via a hiking trail that is about 1 km long. The monastery was an education center until 1833. The monastery is a good example of post-Byzantine architecture and features to domes at the main church.
The Church of Panagia Flabouriani
The Church of Panagia Flabouriani is located at the top of a small peninsula in the Bay of Flabouria. Tradition says that footsteps left by Panagia from the beach to the church created the present stone steps. When visiting the church, you are likely to smell white lilies that grow in the area.
The Church of Panagia Stratilatissa
Located 3 km from the village of Driopida, in the middle of the island, the Church of Panagia Stratilatissa is considered one of the most beautiful and elegant churches on the island of Kythnos. The domed basilica has two naves and the iconostasis is decorated with post-Byzantine icons.
The island of Kythnos is the ideal destination for those who enjoy visiting and exploring historical monasteries and churches. Whether you enjoy the historical features, the religious aspect, or both, you will not be disappointed. When you're not exploring monasteries, you can relax at one of the numerous beaches Kythnos boasts.
Categorized in: About Kythnos, Greece, Greek Travel Guide
This post was written by GreekBoston.com
Like this article? Please share below: