The Fortress Town of Mystras
Written by GreekBoston.com in About Mystras, Greece, Greek Travel Guide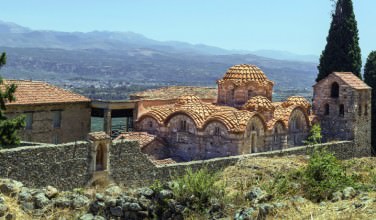 The fortress town of Mystras in the Peloponnese region of Greece holds captivating ruins of churches, libraries, and palaces. Built in 1249 by the Frankish leader Guillaume de Villehardouin, it is one of the most important sites of Peloponnese history. It was once a place of refuge from the invading Slavs and it enjoyed a period of renaissance under the despots before Turkish rule began in 1460. It declined under Turkish rule but thrived again after the Venetians captured it in 1687 and they developed a silk industry. The Turks recaptured it in 1715 and then it experienced a long period of misfortune. The Russians burnt it in 1770 and the Albanians burnt it in 1780. Ibrahim Pasha torched whatever was left in 1825. Restoration began in the 1950's and continues today. In 1989 it was declared a World Heritage site.
The Ruins of Mystras is divided into 3 sections: the kastro (the fortress on the summit), the hora (upper town), and the kato hora (lower town). The Monemvasia Gate links the lower and upper towns. The ruins can be entered from the castle at the top of the upper town or from the base of the lower town.
There are many prominent churches in Mystras. Mitropolis is the oldest church in Mystras and is located by the lower town entrance. The church began in 1291. Its frescoes are mostly from the early 14th century and depict the church's patron Agios Dimitrios. Christ is depicted in "Healing of the Lepers" and "Wedding at Cana". The last Byzantine emperor Constantine XI Palaiologos was crowned here in 1449. Moni Perivleptou is a 14th century monastery that has a compact three aisled church. Its frescoes focus on the 12 major church feasts including "Nativity", "Baptism", "Transfiguration", "Entry into Jerusalem", "Doubting Thomas", and "Pentecost". Moni Pantanassas is the last church built at Mystras. Its frescoes date from 1430 and include "Raising of Lazarus", "Nativity", "Annunciation", "Descent into Hell", and "Entry into Jerusalem". Vrontochion is a 13th century monastic complex and was the cultural center of medieval Mystras. It holds two churches: Agioi Theodoroi which dates back to 1295 and has the largest dome at Mystras and Afentiko from the early 14th century which has six domes and the frescoes "Virgin Orans", "Prophets", "Baptism", and "Ascension".
Another site in Mystras is the Despots' Palace. It has two wings. The Northeast wing began with the Franks. The Northwest wing was erected after 1348 and is an example of Byzantine civic architecture. It has the throne room of the rulers of the Cantacuzene and Palaiologos dynasties. The square was a venue for public events under the despots and a marketplace under the Ottomans.
Categorized in: About Mystras, Greece, Greek Travel Guide
This post was written by GreekBoston.com
Like this article? Please share below: