Visit Pyrigi Village in Chios
Written by Greek Boston in About Chios, Greece, Greek Travel Guide Comments Off on Visit Pyrigi Village in Chios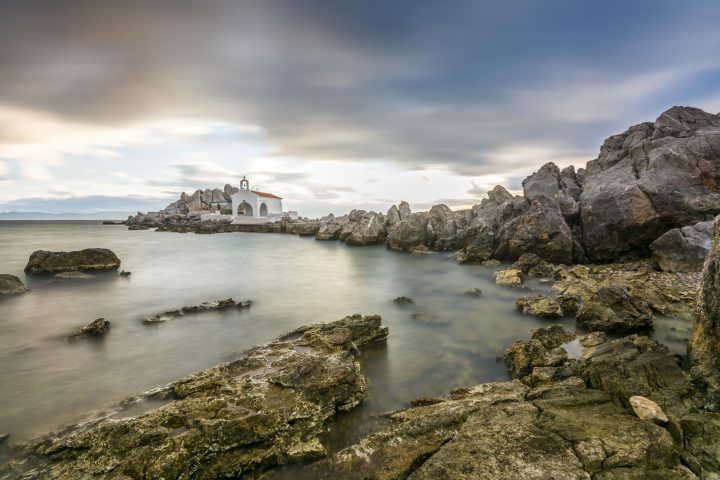 Hidden on the eastern Greek island of Chios sits Pyrgi, a charming Medieval town often referred to as the "Painted Village." Located about 15 miles south of the island's capital Khios, Pyrgi's quaint streets are flooded with stone homes characterized by their geometric gray and white designs, called Xysta.
Built prior to the 10th century, this stunning village is thought to be the home of Christopher Columbus according to some historians who trace his lineage to a Genoese Pyrgi family. With its undeniable beauty and history, Pyrgi is a village in Greece that travelers have visited for centuries.
About Pyrgi Village
The ancient town of Pyrgi is only a little over 300 feet above sea level in the North Aegean region of Greece. The population hovers under 2,000 residents but visitors regularly come to the village to see its stunning architectural style homes painted in the striking gray and white that some liken to Italian graffiti. Home to many churches and monuments of importance to the country, Pyrgi is a beautiful village that is easily walkable for visitors and locals alike.
One of the Mastic villages, Pyrgi is comprised of homes that are built tightly together and surrounded by a thick wall, all out of sight of the sea to aid in security from potential sea-faring conquerors. Inside these fortresses built by the Genovese, families could safely grow and harvest the valuable mastic tree over the years, and a handful of these Mastic villages remain in Greece.
Visitors to the charming village will see that modern life here looks much like it did centuries ago with the picturesque narrow stone-paved walkways lined with balconies overflowing with flowers weaving around ancient churches and homes noted for their medieval architecture.
What to do at Pyrgi Village
Visitors in Pyrgi will enjoy strolling through the village, soaking in the remarkably well-preserved homes and Italianate painted designs on their facades. Wandering through the streets, visitors can take in the wonderfully preserved murals on walls and homes, reflecting the medieval character of the town. Small shops and cafes are also found in the main walkways of the village, and visitors can integrate easily into the slow pace of this sleepy Greek village.
Be sure to snag a cup of Mastic coffee here at a café to enjoy while exploring the village. Sightseeing in Pyrgi revolves around the beautiful churches found here, and usually starts with a visit to the Agioi Apostoli (Holy Apostles) temple, a gorgeous church designed in the Byzantine style constructed between the 13th and 14th centuries. Another church to visit is the Virgin's Assumption, built in 1694, as well as the 1680's Church of Taxiarchis.
Getting to Pyrgi
Visitors can reach Pyrgi from the Greek mainland by taking a ferry to the island of Chios. To reach Pyrgi, the Rafina-Chios ferry line connects Rafina, just east of Athens, to the island. From the main port of Chios, visitors will then take a short 15-mile drive to the southern town of Pyrgi.
The charming village of Pyrgi is full of medieval architecture and historic touches that make it one of the places visitors should not miss when visiting Greece. As a gorgeous example of the Mastic villages in the North Aegean region of Greece, Pyrgi is an excellent location to experience a uniquely beautiful and historical part of Greek culture.
PLEASE NOTE: The Greek travel section at GreekBoston.com are not paid reviews. Our unbiased and informative travel articles are designed review the popular cities, islands and places in Greece. We are not always able to exactly match the photos to the destinations, but we do try to get close. However, we are not looking for photo submissions at this time. If you find something in a Greek travel article that is not accurate based on your personal experience, please send us an email to greekboston@worldwidegreeks.com and we will consider your suggestions. Thanks for reading the travel section at GreekBoston.com!
Categorized in: About Chios, Greece, Greek Travel Guide
This post was written by Greek Boston
Share this Greek Travel Article: