Samos Offers a Mix of Archaeological Sites and Fine Beaches
Written by GreekBoston.com in About Samos, Greece, Greek Travel Guide Comments Off on Samos Offers a Mix of Archaeological Sites and Fine Beaches
Samos is a North Aegean island that is located just 2 miles away from Turkey, the closest of any Greek island. Samos is an attractive tourist destination because it offers both fine archaeological sites along with excellent beaches and outdoor activities including hiking, cycling, and windsurfing.
Samos Town, also known as Vathi, is the capital of Samos. It's located on the northeast coast. The town's most important site is the Archaeological Museum. The Samian sculptures housed here are considered the best in Greece. The highlight of the Archaeological Museum is the Kouros from Heraion, the 16-½ foot tall statue of a male youth that was built as an offering to the goddess Hera. It is the largest freestanding sculpture surviving from ancient Greece that dates back to 580 BC. The museum is also known for its collection of pottery and tributary gifts from ancient cities. Another popular museum in Samos Town is the Museum of Samos Wines. Samos is famous for its wines, which have been awarded internationally. The museum was created in 2005 by the Union of Vinicultural Cooperatives in tribute to the island's histo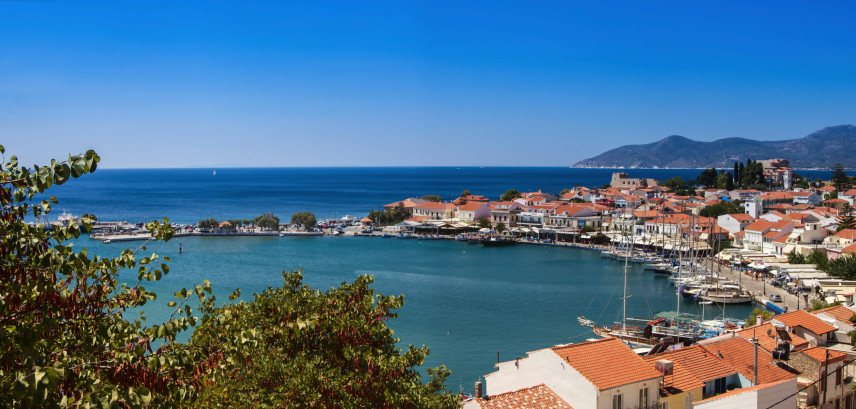 ry of winemaking. The museum offers wine tastings in the main hall and wines can be purchased in the museum shop.
Due to its proximity to Turkey, many travel agencies offer round trip full day tours. Or, if you prefer you can plan your own trip via ferry. In high season, two ferries run between Samos Town and Kusadasi, Turkey daily. Kusadasi serves as a gateway to the archaeological site at Ephesus, which is famous for its Temple of Artemis which is one of the Seven Wonders of the Ancient World.
Approximately 8 miles southwest of Samos Town is Pythagorio, a picturesque port that is popular with tourists. Pythagorio is where you can find the famed underground aqueduct, To Efpalinio Hydragogeio (or Efpalinio tunnel). It runs through the mountain above Pithagorio and once transported water from the mountain to ancient Vathi (Samos Town). Polycrates ordered the construction of the tunnel to ensure that Samos's water supply could never be cut off during an attack. The space was also used as a hiding place during pirate raids. Tourists that visit can walk the first 1,000 feet.
Early Samians worshipped the goddess Hera and believe she was born on Samos. Several temples were built here in her honor including Heraion, the ruins of Hera's ancient sanctuary, located 4 miles southwest of Pythagorio. The sanctuary was rebuilt in the 6th century but then was damaged during invasions and ultimately ruined by earthquakes.
If you're looking for a good beach, there are plenty to choose from on Samos. Livadaki Beach north of Samos Town offers tropical waters and soft sand. The water is very shallow. Agia Paraskevi, northeast of Samos Town is popular with Greek families. Pythagorio Town Beach just west of Pythagorio is a clean beach that is just a walk away from town. Psili Ammos Beach, east of Pythagorio, faces Turkey and is bordered by shady trees.
PLEASE NOTE: The Greek travel section at GreekBoston.com are not paid reviews. Our unbiased and informative travel articles are designed review the popular cities, islands and places in Greece. We are not always able to exactly match the photos to the destinations, but we do try to get close. However, we are not looking for photo submissions at this time. If you find something in a Greek travel article that is not accurate based on your personal experience, please send us an email to greekboston@worldwidegreeks.com and we will consider your suggestions. Thanks for reading the travel section at GreekBoston.com!
Categorized in: About Samos, Greece, Greek Travel Guide
This post was written by GreekBoston.com
Share this Greek Travel Article: