Syntagma Square is a Major Athens Point of Interest
Written by Greek Boston in About Athens, Greece, Greek Travel Guide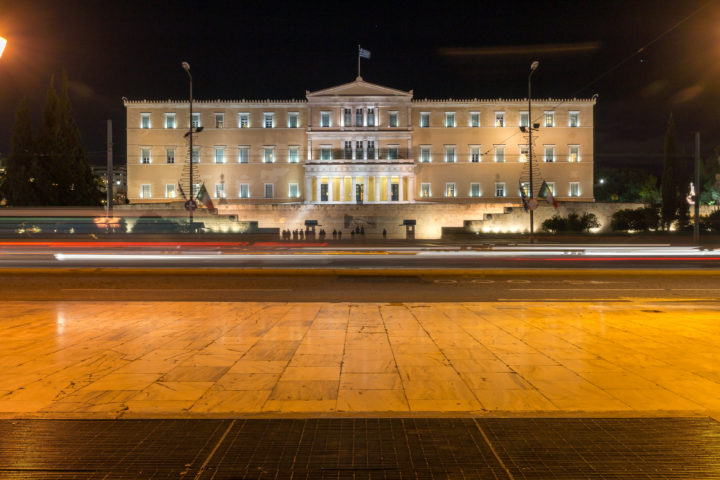 Syntagma Square (Plateia Syntagmatos) in Athens has been the site of many political functions and other major events have been celebrated here. It is named for Greece's constitution. There are many places to see in the square.
Syntagma Square highlights include:
This metro station is the busiest stop in the city. This major transit hub also serves as a museum. The city was excavated to extend the metro in the 90's in order to host the summer Olympics in 2004 and archaeologists found thousands of priceless items. Many are on display at the metro station.
This Neoclassical building was the former royal palace of King Otto (Greece's first King after independence) and his wife Queen Amalia until riots in 1843 resulted in a democratic constitution. It suffered neglect for many years and even served as a homeless shelter during a housing shortage in 1923. After the return of parliamentary government in 1926, the building was gutted, renovated and re-opened as a single-chamber council for parliament. It's now a house of democracy where 300 Greek parliamentarians tend to the business of the state or, as cynical locals believe, become corrupt.
The Tomb of the Unknown Soldier is a simple marble-slab tomb marked only with a cross. Above it is a carved image of the Unknown Soldier. It is guarded by Evzone guards, an elite infantry unit of the Greek army that stands at attention at the Tomb. Evzones are selected from the tallest and best-looking men in the mandatory Greek military service. They wear traditional pleated kilts, white britches, and pom-pom shoes, the traditional attire of the rebels who won the War of Independence. They stand straight at their posts and conduct a ceremonial changing of the guard five minutes before the top of each hour. A full ceremony with marching bands occurs on Sunday mornings. This is the most famous aspect of Syntagma Square.
This pedestrianized thoroughfare is free of cars. It connects Syntagma Square with Monastiraki. The pedestrian shopping mall features high end international shops which appeal to the younger crowd but can be a turn off to older natives. It is one of the most expensive shopping streets in all of Europe. Even if you can't afford to shop here, it's a great location for people watching and talented street performers and food vendors can be found on this street.
Hotel Grande Bretagne
Along with the Parliament Building, this is another one of the remaining buildings from King Otto's Neoclassical makeover that overlooks the square. This luxury, award winning 5 star hotels is a city landmark. It offers breathtaking views of the square, the Acropolis, Lycabettus Hill, and the original Olympic Stadium. It has a rooftop garden restaurant and bar that is open for breakfast, lunch, and dinner.
There are some interesting places to visit in the vicinity of Syntagma Square. They are all interesting, and you should take the time to explore the area.
PLEASE NOTE: The Greek travel section at GreekBoston.com are not paid reviews. Our unbiased and informative travel articles are designed review the popular cities, islands and places in Greece. We are not always able to exactly match the photos to the destinations, but we do try to get close. However, we are not looking for photo submissions at this time. If you find something in a Greek travel article that is not accurate based on your personal experience, please send us an email to greekboston@worldwidegreeks.com and we will consider your suggestions. Thanks for reading the travel section at GreekBoston.com!
Categorized in: About Athens, Greece, Greek Travel Guide
This post was written by Greek Boston
Share this Greek Travel Article: