Top Museums to Visit in Corfu
Written by Greek Boston in About Corfu Greece, Greek Travel Guide Comments Off on Top Museums to Visit in Corfu
Corfu is one of the most popular islands in Greece to visit, and as a result of that, there is no shortage of things to do. When you are not eating the delicious food or lounging on one of the pristine beaches, you can also see the sites! These museums all showcase a special part of the history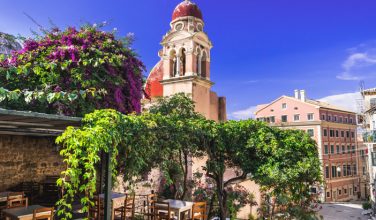 and culture of Greece and the island. You should try to visit them during your stay, especially if these are topics that interest you. Here's more information:
Located in Gastouri village, this palace once belonged to Empress Elizabeth of Austria. She loved Greece and was inspired by its mythology to create a palace that reflected its ancient heritage. As such, much of the artwork in the palace is dedicated to the mythological legends and gods. The palace was built in 1890 and its gorgeous grounds and landscaping will leave visitors wandering its halls and marveling at its artwork for hours. With the picturesque Corfu shoreline below, the view from up above leaves a most remarkable impression.
Acharavi Folklore Museum
This museum first opened in 2008 to display unique folk artifacts in Corfu. The stately museum is housed just past the Acharavi Roman Baths and features exquisite pieces from the 18th century. A trip to this museum will reveal exclusive items from the Ionian State such as manuscripts, rare coins, and period furniture. This museum also offers a number of conferences and symposiums every year to learn more about Greek folk history.
Mavroudis Family Museum
Greece has long been associated with olives and olive oil. And this is for good reason. The Greeks traditionally used olive branches as an offering of peace to end wars. Furthermore, olive trees have symbolized wealth, beauty, health, and abundance. Given that it's such a symbol of importance, the Mavroudis Family Museum is a must-see! This museum takes visitors back in time to learn the ancient ways in which olives were processed and how olive oil was extracted. Visitors are given an in-depth tour of the historical processing methods and a tasting of some of the best olive oil in the world.
Set in a gorgeous park-like space, Mon Repos Palace was built in 1826 by British Commissioner Frederic Adams as a gift to his wife. The palace features extraordinary colonial architecture that has been a treasured part of Corfu heritage. Over the ages, the palace eventually became one of the residences of the royal family of Greece. A notable royal, Prince Phillip, Duke of Edinburgh, was born in the palace. He is the husband to Queen Elizabeth II of England. Additionally, the palace is a wondrous sight to behold with its lush gardens and elegant treasures. The palace is now utilized by the Municipality of Corfu and visitors are allowed throughout the year.
Byzantine Museum
This museum was originally constructed in the 15th century as a Byzantine Church and was transformed into a museum in 1984. It is located within the Church of Virgin Mary Antivouniotissa. To this day it holds some of the most revered items from the Byzantine period of history. The exhibits extol the historical significance of the many religious items on display. And in doing so, showcase the legacy of the Byzantine Empire that dominated the world for over a thousand years.
The museums in Corfu, Greece offer visitors wondrous insight into the historical, cultural, and architectural contributions Greece has made. Visitors are able to see distinct artifacts in each location and better understand how the history of Greece is relevant in modern times. No trip would be complete to Corfu, Greece without visiting these treasures and exploring all that these museums entail.
PLEASE NOTE: The Greek travel section at GreekBoston.com are not paid reviews. Our unbiased and informative travel articles are designed review the popular cities, islands and places in Greece. We are not always able to exactly match the photos to the destinations, but we do try to get close. However, we are not looking for photo submissions at this time. If you find something in a Greek travel article that is not accurate based on your personal experience, please send us an email to greekboston@worldwidegreeks.com and we will consider your suggestions. Thanks for reading the travel section at GreekBoston.com!
Categorized in: About Corfu Greece, Greek Travel Guide
This post was written by Greek Boston
Share this Greek Travel Article: