Tourkovounia an Athens Landmark to See
Written by GreekBoston.com in About Athens, Greece, Greek Travel Guide Comments Off on Tourkovounia an Athens Landmark to See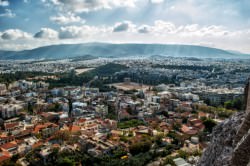 The Tourkovounia [Grk. Τουρκοβούνια] translates as the Turkish Mountains, and at over 1,100 feet tall, it is the highest range of hills in the Attic Basin. Since it is by far the highest hill actually located within the city, it offers sweeping views of the modern city of Athens.
Like many of the other landmark hills of the city, its name has changed with the time. The first mention of the hills in ancient times calls it by the name Anchesmos [Αγχεσμός]. It was said there was a statue of Zeus, the god of weather and the sky, where he would 'throw' lightning from above on the mountain. Between the 3rd and 5th Centuries AD it became referred to as Lykovounia [Λυκοβούνια] or Wolf Mountain after the wolves that lived on its slopes.
Today it is known as Tourkovounia either because of Ottoman Turkish troops that amassed there in preparation for the Conquest of Athens in 1456, or due to a possible Turkish cemetery on its slopes.
Tourkovounia is located quite a few miles from the city center, and a considerable distance from most of the traditional sites of Athens. In comparison, the distance between Tourkouvounia and nearby Mount Lykavittos is roughly the same as the walking distance between Mount Lykavittos and the Acropolis, which is almost 2.5 miles.
The hills form the natural border between the municipalities of Galatsi to the west and northwest, Filotheis to the north, and Psychiko to the northeast. Since Tourkovounia is a bit off of the beaten path for visitors to Athens, it is easiest to stick to the traditional hills such as Mount Lykavittos.
Visitors heading to the general area around Tourkovounia could instead visit the Pedion tou Areos [Πεδίον του Άρεως], which is one of the largest public parks in Athens. The expansive park has many fountains and squares as well as several beautiful plants native to the Mediterranean climate. It was built to honor the heroes of the Greek Revolution of 1821, many of which are honored with marble busts. Though the view is not as good, the Pedion tou Areos has much more to offer and is more tourist-friendly and accessible than the Tourkovounia.
How to Get There
Unfortunately, since Tourkovounia is an area that is quite a bit further from Downtown Athens and the Ancient Sites, it has little interest to tourists and is not as easily accessible as The Acropolis, Philopappou Hill, the Areopagos, or Mt. Lykavittos. Therefore, Tourkovounia does not have a metro station nearby. However, the Pedion tou Areos is located a little over half a mile from Omonoia Square. The closest metro station to the park is Victoria Station on the Green Line [Line 1].
Categorized in: About Athens, Greece, Greek Travel Guide
This post was written by GreekBoston.com
Like this article? Please share below: