Visit the Tower of the Winds in Athens
Written by GreekBoston.com in About Athens, Greece, Greek Travel Guide Comments Off on Visit the Tower of the Winds in Athens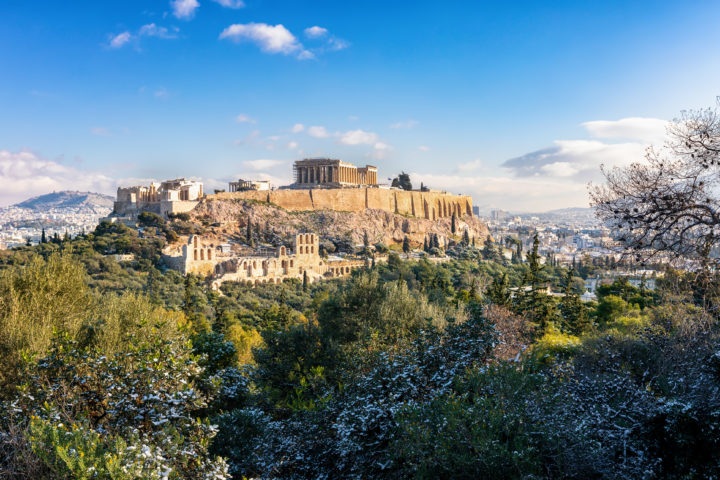 Athens, Greece is well-known for its heritage and history. There is so much to explore when visiting the city of Athens. One must-see historic monument is the Tower of the Winds. Here's what you should know about the Tower of the Winds in Athens, Greece.
About the Tower of the Winds in Athens
The Tower of the Winds is located in the Roman Agora of Athens. It can be found between the quarters of Monastiraki and Plaka. The Tower of the Winds is one of the most popular sites in Athens. Also known as Horologion, meaning "timepiece," the structure stands 12 meters high and has a diameter of 8 meters.
This tower was built around 50 BC by Greek astronomer Andronicus of Cyrrhus as an instrument for measuring time. It consists of eight sides, each facing a point of the compass. The tower is decorated with figures that represent the winds that blow from that particular direction. Another use for the Tower of the Winds was to indicate weather and forecasting the weather. The tower has sundials, a wind vane, and a water-clock.
Inside the Tower of the Winds there used to be a water-clock that worked when water came down from the Rock of Acropolis. The architecture of the Tower of the Winds has inspired structures around the world including the 18th century Radcliffe Observatory in Oxford, UK and the 15th century Torre del Marzocco in Italy.
Visit the Tower of the Winds
The Tower of the Winds is still standing making it an amazing site to visit. Entry to see the Tower of the Winds is included in admission to visit the Roman Agora. The octagonal marble structure and the frieze of figures on the tower are fascinating to see. The stone roof of the tower is one of the few still preserved from ancient times. There are 24 stone panels.
Across the road from the Tower of the winds was a Sufi madrasah, an Islamic school, that was built in the 18th century. During the 19th century the student rooms were used as a jail. Today much of that building has been demolished. Roman ruins have been found underneath the building. The front gate remains, though it is overgrown with greenery.
Getting to the Tower of the Winds in Athens
Getting to Athens, Greece can be done by plane, ferry, bus, or train. Buses connect throughout towns all around Greece, so no matter where you're coming from, you will find one. Train is the one of the quickest ways of getting to Athens as well as the cheapest. There are both slow and express trains available. The Airport of Athens is located in Sparta and receives both international and domestic flights daily. Once in Athens you can get to the Tower of the Winds by rented car, taxi, or public transportation.
For a glimpse at an interesting piece of history, visit the Tower of the Winds in Athens, Greece.
Categorized in: About Athens, Greece, Greek Travel Guide
This post was written by GreekBoston.com
Like this article? Please share below: