Visit Vaporia Quarter in Syros, Greece
Written by GreekBoston.com in About Syros, Greece, Greek Travel Guide Comments Off on Visit Vaporia Quarter in Syros, Greece
About Vaporia Quarter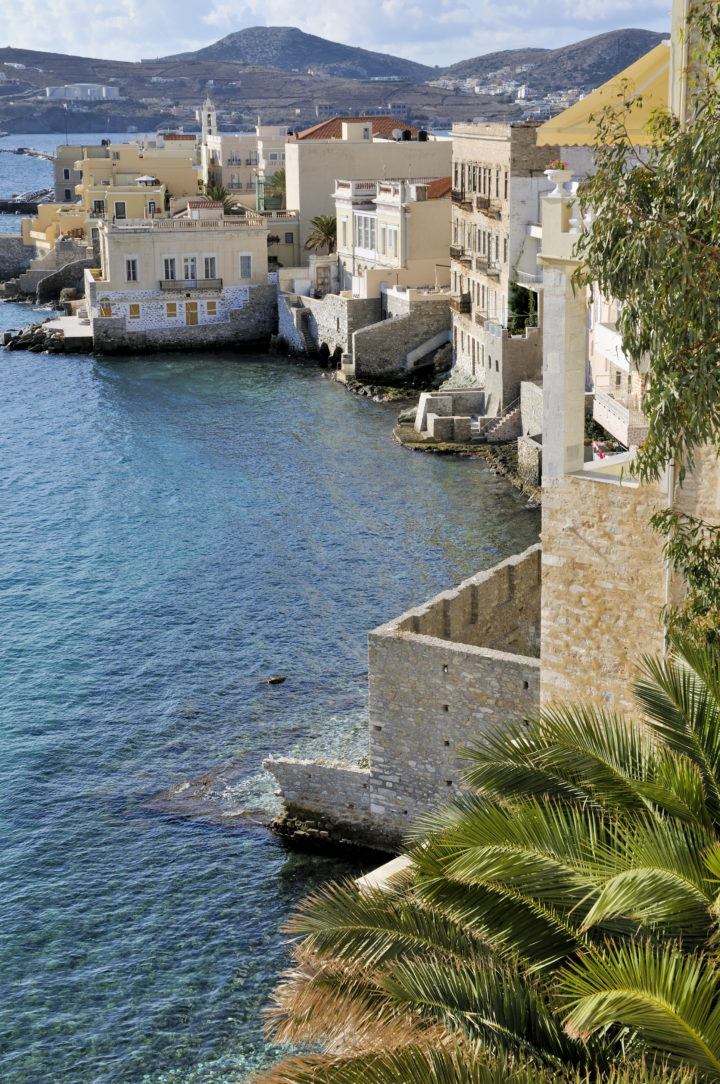 Vaporia Quarter is a beautiful square in Ermoupolis, Syros. Vaporia means "ship" in Greek, which describes the area well. Vaporia is a charming neighborhood that sits around the port of Ermoupolis. This used to be an important trading quarter during the 19th century. Much of the trading that was done on the island at the time, was done within the shops and products would then be loaded onto ships to be exported. The richest people of the island of Syros lived in Vaporia.
During the revolution, refugees from Crete and the northern Aegean settled on the island of Syros. They built high-ceiling mansions. The mansions were created with woodcut doors and wooden floors. These mansions that also featured wall paintings and frescoes were usually found close to the port and belonged to rich ship owners as well as captains. The mansions have been renovated, but extreme care was taken to retain their original architectural beauty. Some of the mansions now act as guest houses and hotels.
The buildings around Vaporia were built attached to each other. They are of different colors and feature carved marble balconies. Of the buildings also feature frescoes or wall paintings that decorate the walls and ceilings.
Visit Vaporia Quarter in Syros
Vaporia Quarter today is a wonderful place to stroll and explore. Take your time admiring the mansions, beautiful arches, and paved paths of Vaporia Quarter. The laid back atmosphere of the area will put you at ease and allow you to relax.
In the area of Vaporia there are small beaches that are suitable for swimming if you want to cool off after exploring the Quarter. Also worth visiting is the Church of St. Nicholas, which is located on a hill. The view from the Church of St. Nicholas is breathtaking. The church itself is Byzantine style. Inside the Greek Orthodox church there are many icons to admire. The church is often called Saint Nicholas of the Rich.
Other sites in and around Vaporia Quarter include: Theater Apollon, a cultural center that has French and Italian architectural influences; the Church of the Resurrection; the Museum of Cycladic Art Replicas; the Archaeological Museum of Ermoupoli; and the Town Hall of Ermoupolis.
You can get to the island of Syros by ferry from Athens and during the summer from Attica as well. You can also get to Syros by plane from Athens and occasionally from Thessaloniki depending on the time of year. A flight to Syros from Athens takes about 40 minutes. Once on the Greek island of Syros, You can get around Syros by taxi, car, bike, or motorcycle.
Categorized in: About Syros, Greece, Greek Travel Guide
This post was written by GreekBoston.com
Like this article? Please share below: