Choosing Your Greek Wedding Party
Written by Greek Boston in Greek Wedding Traditions Comments Off on Choosing Your Greek Wedding Party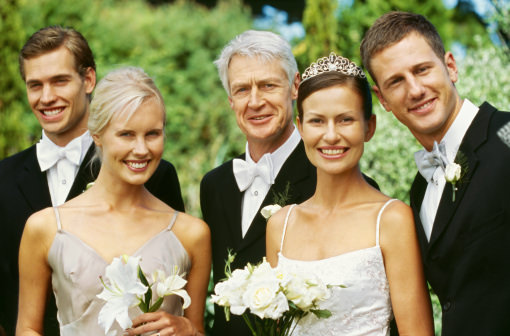 So, you've decided to get married in the Greek Orthodox Church. Yes, there is a lot to do. How do you know what to do first? Well, one of the first things you'll want to consider is assembling your wedding party because you'll want them with you every step of the way.
However, there are some things to keep in mind when making a decision on whom to select. For example, you will likely want to ask your close friends and relatives. Just consider these points before you do.
Talk With Your Priest
Understand that there are two very important functions that the bridal party will assist in during the wedding ceremony. These functions need to be performed by two members of the Orthodox Christian Church that are in good standing. Your priest will help you select the right people for these roles.
Before you meet with your priest, read up on the details of the ceremony so you can be better equipped to understand who is normally selected for these rolls. It helps to have someone in mind before you meet with him.
Decide How Big
Your bridal party can be as big or as small as you want. After you choose the Best Man and Maid of Honor there really is no need to have anyone else in the Orthodox wedding ceremony. There are some factors that will affect the size of your bridal party. These include the size of your guest list, how many people you can comfortably handle in your wedding party, and how many friends you have. Remember to also talk this through with your priest.
Think About Chemistry
This is particularly issue with the bridal party, not necessarily with the groomsmen. There is a certain expectation that the bridal party will assist the bride and her family with the wedding planning. This role especially falls to the maid or matron of honor who may then delegate tasks to the other bridesmaids. That is why it is essential that the bridal party has great chemistry with one another.
If the bridal party doesn't have great chemistry, conflicts can arise. Then, valuable time that can be spent actually planning the wedding will be wasted on resolving interpersonal issues. This is an added stressor to an already stressful time. Don't be afraid to leave people out of the bridal party if you don't think they are a good fit.
Are they Orthodox Christians?
Another factor to consider is if the members of your bridal party are Orthodox Christians or not. This isn't normally an issue as long as there are Orthodox Christians present to do the Stefana Crowning (normally done by the Koumbara) and the blessing of the rings (typically done by the Koumbaros). However, review with your priest if this is an issue or not. Most will find it acceptable if either the Koumbara or Koumbaros are Orthodox.
An essential part of any wedding ceremony is the wedding party. During a Greek Orthodox Christian matrimonial ceremony there are two essential tasks that need to be performed by an Orthodox Christian. This is a factor when determining whom you will choose for the wedding party. However, your priest will be able to advise you.
Categorized in: Greek Wedding Traditions
This post was written by Greek Boston