Tips on Planning Your Destination Wedding in Greece
Written by Greek Boston in Greek Wedding Traditions Comments Off on Tips on Planning Your Destination Wedding in Greece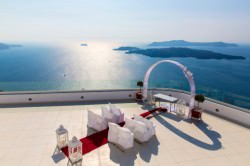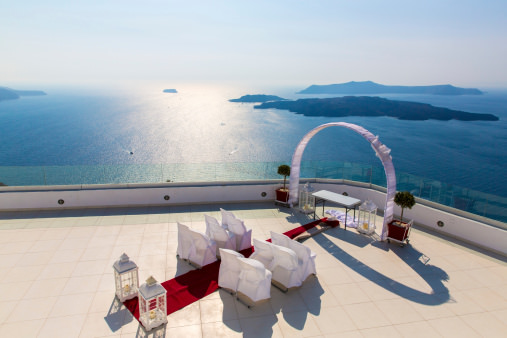 Blue skies, beautiful weather, gorgeous beaches and landscapes – do you dream of having your wedding in Greece? Having a destination wedding is both memorable and adventurous. And, if you have family in Greece or are of Greek ancestry it can even be more meaningful. Here are some tips that will help make your plans as painless as possible.
Choosing a Location in Greece
Where in Greece do you want to get married? Some people choose to get married in a city such as Athens or Thessaloniki. Others prefer a more rural setting, maybe on an island or in the mountains. Many factors will contribute to which you choose. However, if you have a dream destination in mind, this will be a huge factor in shaping your plans.
Make Arrangements Well in Advance
If you are absolutely certain that you want a wedding in Greece it is a good idea to plan things out well in advance. Remember that the pace of life in Greece is a lot slower than what we are used to in the United States (even as Greek Americans) so it will likely take more time than we expect to secure a church and plan the reception. Not only that, but your guests need plenty of time to secure their travel plans.
Hiring a Destination Wedding Specialist
There are companies who specialize in helping couples plan their destination weddings. In fact, some even focus completely on Greece. All you need to do is get in touch with them and they'll handle the rest. If you don't have time to plan or are a little overwhelmed by the process, this can be a good option for you.
Hiring a Wedding Planner
A good destination wedding specialist will also double as a wedding planner. Sure, a specialist can simply help you make the simple arrangements such as finding a venue and booking the church. However, a good planner will take things to the next level by handling all the details. They can do things like call and secure a church, arrange for a priest, plan the reception, arrange for flowers, buy the favors, and much more. This can make things a lot easier for you.
Prepare for the Unexpected
Once you have everything planned, all you need to do is show up for the wedding. Well, unfortunately that's not true. As with any wedding, unexpected things can go wrong. The problem is, if you are flying all the way to Greece for the wedding, it can be harder to problem solve. Do you have alternate plans in case the unexpected happens? Discuss this with your wedding planner. You wouldn't want to be disappointed at the last minute.
Getting married in Greece is something that will make your wedding day even more special. Yes, planning a wedding of this magnitude can be challenging – especially if you do it yourself. The option is always there, however, to hire a wedding planner. No matter how you plan it, getting married in such a beautiful setting is a great way to start your life together.
Categorized in: Greek Wedding Traditions
This post was written by Greek Boston