Tips for Planning a Greek-American Wedding
Written by Greek Boston in Greek Wedding Traditions Comments Off on Tips for Planning a Greek-American Wedding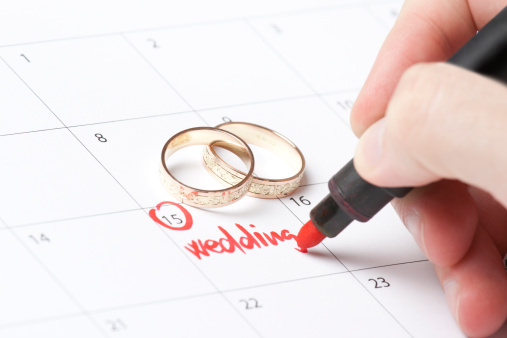 Most brides are stretched pretty thin trying to get all the details ready for their weddings. For Greek brides who are living in the United States, the demands are even greater. Most brides seem to merge the two cultures to create a Greek-American wedding that adheres to both the Greek traditions and the American ones.
Added to this is the fact that there is a tremendous amount of variety with all the details such as where the wedding will be held, how many people you will invite, and which of the traditions you will use. Here is a checklist of all the major elements you will need to plan in order to have a successful wedding.
Getting Married in the Orthodox Church
After you get engaged, the very first thing you should do is contact your Greek Orthodox priest for advice on how to proceed. At this stage, you will need to set a date so you can reserve the church. In addition, you may be required to meet with your priest or to even attend a marriage class with your fiancé. You will also need to choose your wedding sponsor, the Koumbaros or Koumbara.
Selecting Your Wedding Party
Your next task is to select your wedding party, which is a fairly American tradition. The function of the wedding party is to basically assist with the wedding plans, holding the bridal shower, and arranging for the bachelor and bachelorette parties.
Even though most Greek weddings tend to make the Koumbaros or Koumbara part of the "Americanized" wedding party, they actually don't need to be. In the eyes of the Orthodox Church, the Koumbaros or Koumbara is the wedding sponsor and will be performing specific duties in the ceremony.
Other Bridal Events
Besides having the wedding itself, there are other events that are associated with weddings. These events are slightly different in the United States than they are in Greece. Which traditions will you adhere to? Make sure those invitations for each of these events is sent in a timely manner.
• Engagement Party – Some couples opt to have a party to celebrate their engagement. This is considered optional and not every couple feels obligated to do it.
• Bridal Shower– This is an American tradition. It takes place a few months before the wedding. All female members of the guest list are invited unless they're from out of state and you know they can't make it. Most gifts that are given focus on helping the couple build a home.
• Bachelor and Bachelorette Parties – Both cultures have some form of this party. Basically, it is looked at as the "last night out" as a single person and both cultures celebrate it in some form.
• To Krevati – In Greece, decorating the bridle bed is a tradition. Family and friends gather in the couple's home to decorate the bed they will be sleeping in as a married couple. Money is placed on the bed for wealth and a child will sit on the bed to encourage fertility.
As you can see, there is a lot to think about when merging both the American and Greek cultures. Before making your plans, it does help to decide which traditions to adhere to and then stick with it.
Categorized in: Greek Wedding Traditions
This post was written by Greek Boston