Strategies to Help You Survive Greek Wedding Stress
Written by Greek Boston in Greek Wedding Traditions Comments Off on Strategies to Help You Survive Greek Wedding Stress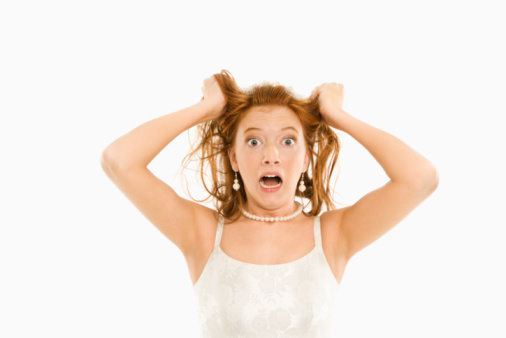 Greek Weddings can be large, festive affairs. Most Greeks seem to have large families and even if their families are small, they seem to make up for it by having a lot of friends. While it is true that this is an exciting time, it can also be a stressful one. Follow these strategies to help you stay sane.
Consult With Your Priest
As soon as the Greek of your dreams proposes, you should be in touch with your priest for advice. Most churches have certain requirements about what needs to be done. For example, you may have to attend a marriage class together.
You will also need information on how to choose a wedding sponsor (Koumbaros or Koumbara) and advice on setting the wedding date. It's better to keep your priest in the loop from the beginning so there are no surprises.
The Wedding YOU Want
As you plan your wedding, you will likely find that everyone has an opinion because people love to give their input. Anything from what type of dress you should wear and which centerpieces to choose are bound to cause friction between you and the people you care about.
In order to survive these moments, it helps to stay in touch with what kind of wedding you actually want. Overall, you don't need to listen to others. They're only trying to help but it is YOUR day, not theirs.
Delegate on Your Wedding Day
Couples spend months planning their weddings. Every detail is thought of right down to the color of the napkins. On your wedding day, it's time to relax and enjoy things, which can be a challenge.
The solution is to trust that the experts you've hired are going to do their jobs. If you really need to, you can hire a wedding planner who will oversee all the arrangements and make sure that your wedding goes smoothly on your big day.
Spend Time Together
No matter how hectic things get while you are planning your Greek wedding, it can help relieve stress by spending time together. It is all too easy to forget about each other as you make wedding arrangements. However, spending time together reminds you of why you love each other enough to get married. This is an important reminder, especially as things get even more stressful.
Simple Stress Relieving Strategies
If you are feeling Greek wedding stress, there are some simple techniques you can try. First of all, it helps to understand that you will probably get stressed at some point. Learning to recognize the signs of stress can help considerably.
Stress relieving strategies include eating healthfully, exercising, visiting a spa, and taking some time for yourself. If you are having a difficult time managing your stress, consult with your doctor.
As is the case with most weddings, getting married in the Greek Orthodox Church can be stressful. Learning how to manage your stress is essential. Also, it helps to remember that your wedding day is supposed to be fun. So, relax and enjoy it!
Categorized in: Greek Wedding Traditions
This post was written by Greek Boston