About Alonissos, Greece
Alonnisos is an island in the Aegean Sea. It it the third member of the Northern Sporades (an archipelago). The village of Alonnisos is located at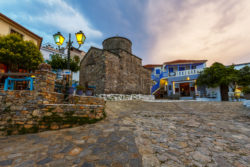 the southern part of the island. It is also known as Chora and signposted as "The Old Town." The main port of the island is called Patitiri and it is in the southeast. There is a bay at the southern end of the island that is also called Alonnisos.
From the Middle Ages until the 19th century, the island of Alonnisos was known as Liadromia. The island was renamed in 1838. The island had been mistakenly identified with a small Greek island named Halonnesus. Thanks to research the present island of Alonnisos was learned to have been called Icus (or Ikos) to the Ancient Greeks. Under the name of Icus the island had been colonized by Cnossians (the people of Knossos). Phanodemus wrote an account of the island and apparently the fleet of Attalus and the Rhodians sailed past Scyrus to Icus.
Much of the early history of the island of Alonnisos has been lost. But legend says that during the 16th century, Cretans introduced wine making to the island and settled in Ikos and Skopelos. During the Classical period the inhabitants of the island of Alonnisos worshipped Poseidon. During the 3rd century AD, the island began to accept Christianity as their religion.
After the occupation of Constantinople from the Turks in 1453, the islands would be under Venetian rule until 1538. During the Greek Revolution of 1821, Greeks from different areas arrived at the island of Alonnisos and with the locals they would form the present population.
A severe earthquake hit the island of Alonnisos in 1965. Most of the houses in Chora were destroyed and the residents would move to Patitiri.
Administrative Region for Alonnisos Island, Greece
Thessaly
Area of Alonnisos Island, Greece
129.6 km2 (50.0 sq mi)
Population of Alonnisos Island, Greece
2,750
Top Attractions in Alonnisos Island, Greece
Church of Agios Athanassios – Located in Alonnisos Town. This small church is a survivor of the 1965 earthquake. The church was built in the 17 century.
Mavrikis Folklore Museum – Located in Patitiri. This privately owned museum is located on a hill. Displays include items from the winemaking tradition, war memorabilia, traditional costumes, and more.
Monastery of Kyra Panagia – On a hill on the east side of Kyra Panagia. It is a 16th century post-Byzantine monastery. Inside the monastery you can view a picturesque church dedicated to the Virgin Mary.
Marpounta Beach – Located 3 km south of Patitiri. This narrow beach is surrounded by high cliffs, creating a wonderful view. The beach is family friendly and organized. Sun beds and umbrellas are available.
Lefto Gialos Beach – 7 km northeast of Patitiri. A beautiful beach with turquoise water and white sand. The beach is also surrounded by trees adding to the lovely atmosphere.
Kokinokastro Beach – 7 km from Patitiri. This beach is surrounded by history; nearby you can remains of the ancient city. The beach features white stones and pebbles and deep blue waters.
BELOW ARE INTERESTING ARTICLES ABOUT ALONISSOS, GREECE: