About Santorini Brewing Company
Written by Greek Boston in Greek Beers List: Pilsner, Ale, Lager Beers Comments Off on About Santorini Brewing Company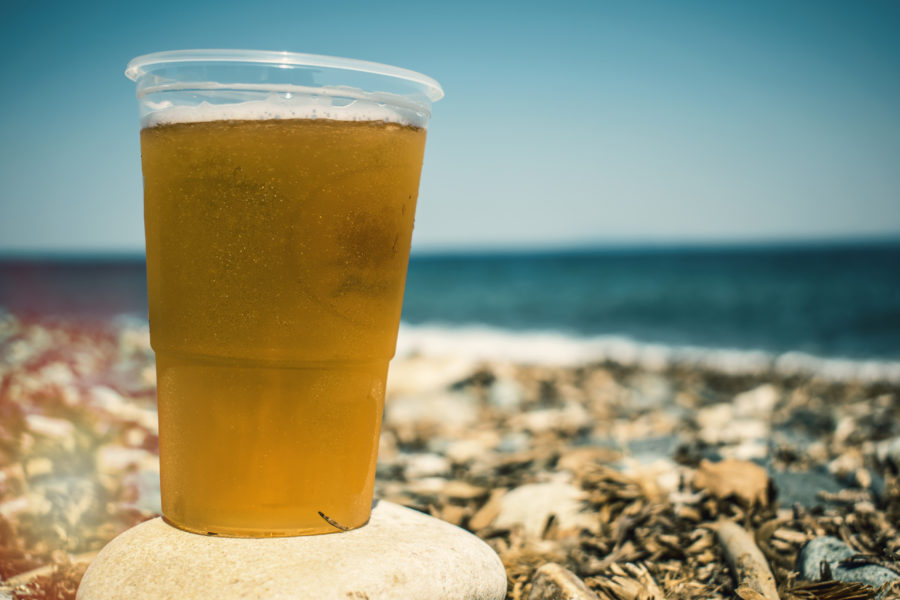 Since 2001, the Santorini Brewing Company has produced beer on the Greek island of Santorini. Santorini Brewing was the first, and remains the only, brewery on the island. The brewery is located in the Mesa Gonia region, which is traditionally the home of the island's wine industry. The brewery was established by four brewers: a Serbian brewer names Boban Krunic, and American named Majda Anderson, a Greek oenologist named Yiannis Paraskevopoulos, and an English brewer and brewery owner named Steve Daniel. Together, their skills and knowledge have some together to create the Santorini Brewing Company.
Each recipe that the Santorini Brewing Company makes consists of four ingredients: malted hops, barley, yeast, and water. The malted barley is milled and then put through a process known as mashing. Mashing yields liquid wort which is boiled with the hops. The residual spent grain is very beneficial to the local vineyard as compost.
The Santorini Brewing Company strives to produce the very best in lagered ales to share with the island of Santorini. The beers produced are preservative-free and unpasteurized. They are sensitive beers that need refrigeration, but this just makes them all the more refreshing and enjoyable. Beers produced by Santorini Brewing Company include: yellow donkey, red donkey, white donkey, crazy donkey, and slow donkey.
Where Santorini Brewing Company Greek Beer is Made
Santorini Brewing Company Greek Beer is produced on this island of Santorini in a region called Mesa Gonia.
Type of Greek Beer Brewed at Santorini Brewing Company
Santorini Brewing Company brews lager ales.
Santorini Brewing Company Greek Beer Flavor Description
White Donkey is a Weiss beer, which is a white beer brewed from malted wheat. White Donkey is a beautiful combination of east and west. The hops are from Australia and Austria, which create a unique blend. There are other hops included, but the Santorini Brewing Company likes to keep some mystery. The aroma of this beer is of citrus with an acidic taste. It's slightly more bitter than you'll find in other Weiss beers.
Crazy Donkey beer is the first IPA produced in Greece. The aroma of this beer is bitter while the taste starts fruity, almost tropical, and finishes dry.
Red Donkey beer is produced using malts that give it the chestnut color it's known for. Some of these malts include Citra from Washington and Nelson Sauvin from New Zealand. This full-bodied beer has the aroma of caramel and malt and tastes fruity.
Yellow Donkey beer combines a number of malts including those from New Zealand, Oregon, and Slovenia to create a refreshing citrus taste. Yellow Donkey is a slightly bitter beer that contains antibacterial elements and antioxidants.
Facts About Santorini Brewing Company Greek Beer
Santorini Brewing Company is the first and only brewery on the island of Santorini
Crazy Donkey beer is the first IPA (India Pale Ale) to be produced in Greece
The brewery's mascot is a donkey, which not only appears on the beer labels, but on t-shirts as well
Slow Donkey beer is made in limited quantities, but it can be tasted at the brewery if you go for a tour
Santorini Brewing Company has created some wonderful must-try beers.
Categorized in: Greek Beers List: Pilsner, Ale, Lager Beers
This post was written by Greek Boston