Best Store Bought Greek Baklava Brands
Written by Greek Boston in Authentic Greek Food Recipes, Greek Cooking Comments Off on Best Store Bought Greek Baklava Brands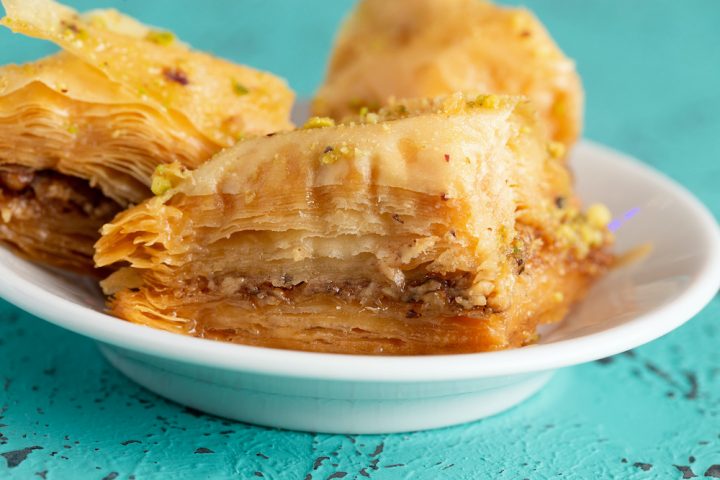 There is no doubt that baklava is one of the most popular of the Greek desserts. You can find it homemade in Greek households, in pastry shops in Greece and throughout the Greek diaspora, and at Greek restaurants. Each has their own recipe, but the main gist is always the same. Most versions include ground nuts, a sweet syrup made from honey and/or sugar, and phyllo dough. Besides the traditional version, you can also find variations, such as chocolate baklava, which has become popular over the years.
Besides making baklava from scratch or ordering it from somewhere, you do have another option for enjoying baklava. You can actually buy a store-bought version. Here is a look at some of the best options that we have found for store bought baklava:
GDK Foods is a company  that carries both the Kronos and Grecian delights brands, and both brands actually have their own baklava offerings. The company also carries other foods, such as gyro meat, burgers, and various sauces, dips, and spreads. Both the Kronos and Grecian Delights brands carry baklava, and both brands make it slightly differently. Besides baklava, the Grecian Delights brand also has nut rolls, which is pretty similar to Greek baklava.
Simply BKLVA brand has a few different types of Greek-style baklavas inn their collection. According to their brand page on Amazon.com, they said that, "Our Baklava assortment is comprised of delicate, mouth-watering cookies made of crispy pastry leaves" and a variety of nuts, like walnuts, pistachios, and cashews. In Greece, baklava is made from whichever nuts are available. In the United States, the most common choice for baklava is made of walnuts. This brand follows that tradition.
Cedar Pastries isn't necessarily a Greek brand. Their website says that they sell "Authentic Mediterranean Handmade Baklavas and More". They specialize in selling pastries, and aside from ordering them direct from the company, you can buy them a stores like Costco. They have different types of baklavas made from different kinds of nuts, such as walnuts and pistachios. One of their specialties is a Greek-style baklava made from walnuts. The baklava has typical flavors, but the company has put its own spin on things.
Bakluva is a brand that was started by Greek immigrants Vasilios and Kalliope, who moved to New Castle, Pennsylvania in the 1970's. They came to the United States with a love of Greece in their hearts, and they quickly learned that they had a desire to share their culture with others. They started their company to share a bit of Greece with everyone. The company sells premium baklava, made with their family recipe. They offer baklava in different-sized boxes for a variety of different purposes.
When it comes to Greek baklava, you can either make it, or buy it from somewhere. There might be local bakeries near you that have baklava, but this is not a guarantee depending on where you live. Otherwise, you can order baklava, or buy it in a store, from one of these companies.
PLEASE NOTE: Greek recipes can be slightly different based on a variety of reasons, such as the region of Greece that the recipe is being made in. If you have seen this Greek recipe made another way, please send us an email to greekboston@worldwidegreeks.com and we will evaluate your suggestion. Thanks!
Categorized in: Authentic Greek Food Recipes, Greek Cooking
This post was written by Greek Boston
Share this Greek Cooking Article: