Top Greek Pita Recipes
Written by Greek Boston in Greek Cooking Comments Off on Top Greek Pita Recipes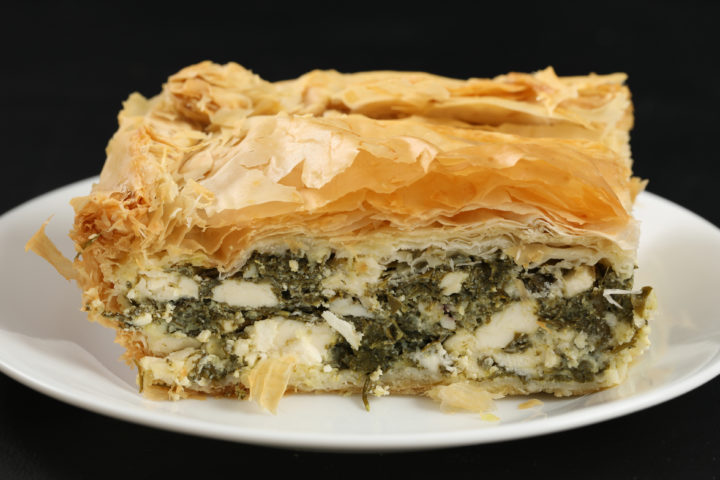 Nothing says "Greek food" like a delicious pita! We all know about spanakopita, also known as Greek spinach pie, and tiropita, Greek cheese pie. However, there are other pita recipes that can be eaten enjoyed. These make excellent appetizers (meze), delicious side dishes, and filling main courses.
Here's a look at some of the best pita recipes that can be found in Greek cooking:
One of the most popular and beloved of all the pita recipes, spanakopita is a staple of Greek cuisine. In this dish, a filling of spinach, feta, egg, and possibly other cheeses (depending on the recipe) is spread across layers of phyllo dough. While recipes may differ, the fact remains that this is an incredibly popular dish.
Tiropita, also known as cheese pita or cheese pie, is another popular phyllo-based dish. There are so many types of cheese that work well in this dish, however, recipes differ highly. Our version uses uses a mixture of feta, the most popular of all the Greek cheese, and Kefalotiri. Both of these can be found in supermarkets and specialty stores. If you can't find Kefalotiri, consider substituting with Romano cheese.
Kolokithopita, also known as zucchini pita or zucchini pie, is another fairly popular phyllo dish in Greek cuisine. This is especially the case in the summer when zucchini are in season. Our version uses zucchini (but you can substitute with summer squash), and savory ingredients like onions, scallions, and parsley. The feta cheese in this dish balances out the zucchini nicely.
Although this dish is an important part of Greek cuisine, it isn't made that often. However, it is a wonderful thing to make when leeks are in season! Our version of prassopita, or leek pie, includes leeks, potatoes, Kalamata olives, and cheeses such as Kefalotiri and Parmesan. Feel free to substitute the Kefalotiri for Romano cheese if you are having trouble finding it.
Spanakopita isn't as popular in Greece as it is in places like the United States. One of the biggest reasons for this is that spinach isn't always available because it can be too hot there for spinach to thrive. There are, however, an abundance of other types of greens that are both wild and cultivated. Most of these greens taste great in a pita. This is the same concept as spanakopita, but it uses a different type of green.
Not all pita recipes need to include vegetables – some include meats! Kotopita, or chicken pita, involves creating a savory chicken filling and spreading it across layers of phyllo dough. Our recipe uses chicken, Kefalotiri Cheese (if you can't find it use Romano), and a creamy béchamel. Kotopita has a delicate, creamy flavor.
Another great pita recipe you can try is Kreatopita, or one made of meat. In this recipe, you can use any type of meat you want, such as beef, pork, or lamb. Our version actually uses beef, but feel free to substitute with other types of meat. Our version flavors the meat with fresh parsley. However, some versions of the recipe that are out there use cinnamon, instead.
Although you could easily use ground lamb in the Kreatopita recipe listed above, this Arnopita, or lamb pita recipe, uses some special ingredients that enhance the lamb's flavor. For example, the recipe calls for the use of the pan juices and is flavored with orange zest, which enhances the meat.
As you can see, there is a large variety of pita recipes in Greek cuisine that you won't want to miss the chance to try. Be sure to use the freshest and most authentic Greek ingredients possible so they can be as delicious as possible. These recipes use phyllo dough, which is readily available. You also might want to consider making your own.
Categorized in: Greek Cooking
This post was written by Greek Boston
Share this Greek Cooking Article: