Food and Drink to Try in Greece
Written by Greek Boston in About Athens, Greece, Greek Cooking, Greek Travel Guide Comments Off on Food and Drink to Try in Greece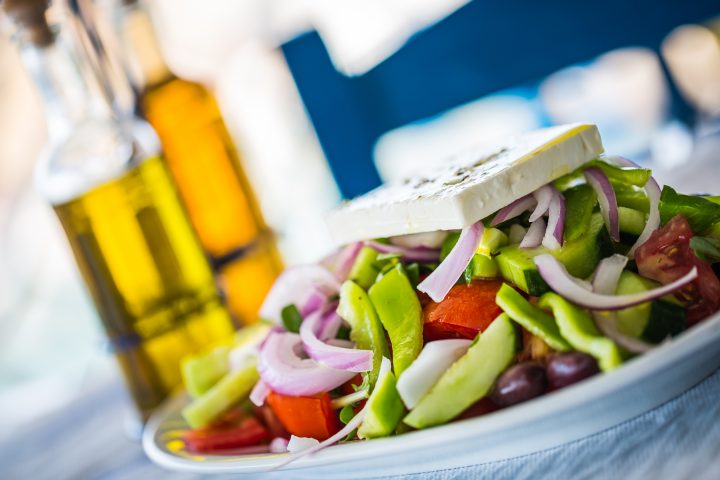 Sure, there are a lot of great things you can do while in Greece. The weather is idyllic and filled with plenty of sunshine, and a big part of your trip will no doubt be spent at the beach or enjoying the outdoors in some capacity. There are also some amazing landmarks and museums to visit, as well as plenty of shopping opportunities.
Here are some highlights of different Greek foods you need to try while visiting Greece:
No visit to Greek would be complete without a sample of the country's cheeses. It is such an important part of the cuisine and is not only present in some of the country's most iconic dishes, such as the Greek village salad (horiatiki), but it is also eaten on its own. Here are some of the top cheeses you'll want to sample:
Feta – Greece's most famous cheese. Traditionally made of sheep's milk, this cheese is perfect mixed in with a fresh Greek salad or slice of bread.
Kefalotyri – One of Greece's most contemporary cheeses, Kefalotyri is made from either sheep's milk alone or a mixture of sheep and goat's milk with a salty flavor.
Metsovone – A go-to table cheese in Greece, this cheese consists of cow's milk or a combination of cow and either sheep or goat's milk. It's enjoyed in both traditional Greek recipes or eaten alone.
Greek wine has been around for thousands of years and was one of the first places on earth that wine has been produced. However, aside from always having a local culture, Greek wines have recently been making it to the world stage. Here are some of the top Greek wines to try while visiting:
Assyrtiko –  One of the top wines in the country, this white grape wine from Santori is fruitfully flavored with a salty finish.
Agiorgitiko – Hailing from the region of Peloponnese, this red wine is rich with flavors of raspberry, black currant and plum.
Vinsanto –  Made of white grapes but smelling like red grape wine, this pick is a journey for the senses, with a strong scent and powerful taste.
Greek cuisine is filled with iconic dishes and while in Greece, there will be an abundance of things to try. Overall, the following list gives the highlights:
Olives and olive oil – Olives are a foundational part of the country's food culture. Mixed in with Greece's olive oil, these can be enjoyed as an appetizer, snack or part of a great meal.
Moussaka – Found throughout the Mediterranean and Balkans region, Moussaka gets its Greek touch by featuring ingredients such as minced lamb, eggplant, onion, garlic and various spices.
Baklava –  Desert wouldn't be complete in Greece without baklava, especially with honey flavor. This light and fluffy pastry is a perfect way to wrap up any Greek meal.
While the country may be known more for its food and wine beverages, Greece has plenty to offer when it comes to spirits, including the following:
Ouzo – There is no more traditional Greek spirit than Ouzo. Consisting of distilled anise, this spirit is the top choice for a social drink.
Raki – Known as tsikoudia elsewhere in Greece, raki is something you will be drinking plenty of if you visit the island of Crete!
Brandy – Greeks have their own brandy, and it is delicious and worth trying. It is often found under the "Metaxa" label.
Greece is filled with many wonderful food and drink opportunities, with the above mentioned being the absolute top picks!
PLEASE NOTE: The Greek travel section at GreekBoston.com are not paid reviews. Our unbiased and informative travel articles are designed review the popular cities, islands and places in Greece. We are not always able to exactly match the photos to the destinations, but we do try to get close. However, we are not looking for photo submissions at this time. If you find something in a Greek travel article that is not accurate based on your personal experience, please send us an email to greekboston@worldwidegreeks.com and we will consider your suggestions. Thanks for reading the travel section at GreekBoston.com!
Categorized in: About Athens, Greece, Greek Cooking, Greek Travel Guide
This post was written by Greek Boston
Share this Greek Cooking Article: