Learn About Kydonia of Ancient Greece
Written by Greek Boston in Ancient Greek History Comments Off on Learn About Kydonia of Ancient Greece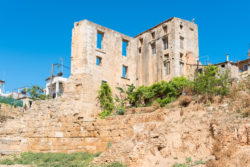 On the northwest island of Crete stood an ancient Greek city. It was known as Kydonia. Today, a modern Greek city is standing where Kydonia was built. It is called Chania. There is a Greek legend associated with the founding of Kydonia. According to this legend, King Cydon was the son of Apollo or Hermes. His mother was the daughter of King Minos and her name was Akakallis. According to Greek legend, King Cydon founded the city. There are others that claim King Minos founded the city. Here's more information:
Where it Is
Kydonia is believed to be in the western area of Crete based on writings by ancient authors. It is said to be facing the Peloponnese. The precise location of Kydonia was determined by Robert Pashley. He was able to accomplish this by studying ancient historical literature and prior to any specific archaeological proof being obtained. Chania was determined to be from Kydonia by John Pendlebury.
Early Days of Kydonia
There have been ceramic shards discovered in this area that are dated. They have been shown to be from the Neolithic era. These ceramic shards have been found during archaeological excavations from Chiana's citadel located in its harbor. Based on the findings from these excavations, systematic habitation of this area was established.
Mentioned in the Odyssey 
The tribe of Kydones is mentioned in the Odyssey by Homer but not the Kydonians. This particular tribe lived on each side of the Iardanos river. During an early phase of its existence, the city would mint coins that looked like the island. Evidence obtained from archaeological work is limited for this period of time.
During the Peloponnesian War
During this period, Athenians attacked Kydonia. This was based on accusations of the city having a pro-Sparta policy. The city was again attacked in 343 BC. During this attack, an army of mercenaries led by a man known as Phalaikos was unable to capture the city. Kydonia participated in the battle for domination between the cities of Crete. This took place during the Hellenistic time period. It entered into a peace treaty with its enemies toward the end of the 3rd Century BC.
Roman And Byzantine Era
Kydonia was able to obtain its freedom after the Roman battle of Actinium. The Roman emperor Augustus granted its citizens freedom for helping him win the battle. The citizens of Kydonia impressed the Romans with their superior bow skills. Kydonia is mentioned in many different types of ecclesiastical documents. The bishop of Kydonia was a participant in Constantinople's first council. This was its Byzantine time period and a time when the city was very prosperous. This ended with the Arab efforts to capture Crete.
Name Changed to Chania
Archaeologists are not able to specifically determine when the name Kydonia stopped being used. There are some who believe it is possible the Arabs changed its name. In 1962, the Metropolis of Apokoronas and Kydonia was created. The items obtained from Kydonia by archaeologists are maintained in Chania. They are kept at the Chania Archaeological Museum.
Kydonia was a city populated for centuries. Its necropolis is very large. It contains graveyards from many different time periods. Archaeologists have discovered graves, burial chambers and more. This ancient city is located beneath the modern city of Chania.
Source:
Categorized in: Ancient Greek History
This post was written by Greek Boston
Share this Greek History Article: