Andreas Miaoulis – Military Leader of the Greek War for Independence
Written by Greek Boston in Modern Greek History Comments Off on Andreas Miaoulis – Military Leader of the Greek War for Independence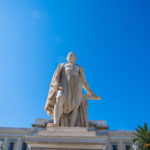 Andreas Vokos Miaoulis was a politician and admiral in charge of the fleet that defeated the Turks of the Ottoman Empire in the Greek Revolution, the Greek War for Independence, from 1821-1832. He commanded the fleet until he retired in 1827. His original surname was Vokos, but his nickname was Miaoulis, meaning a felucca or small wooden boat. The nickname stuck, and Miaoulis is the name under which he is remembered in history. Here's more information:
Andreas Miaoulis' Early Years
Andreas Miaoulis is said to have been born in 1769, but historians are not in agreement concerning where. Some say he was born in Hydra, while others say he was born in Negropont on the island of Euboea, and settled later in Hydra. He came from a wealthy family of ship owners. He himself was a shipowner and builder. Little else is recorded of his young life until he became a successful sea merchant of wheat and corn and amassed a large fortune. He was also active in Greek political life.
His Role in the Greek War for Independence
Andreas Miaoulis held many roles during the Revolution. In 1822 he was appointed admiral to fight against the rule of the Ottoman Empire. He donated his own ships and money to the war effort. His victories include the defeat of the Turks at Modon, Cape Madapan, Suda, and Cape Papas in 1825 and 1826.
However, he was also a politician. The Greek Revolution had allies from Britain, France, and Russia. Important to note is how Miaoulis diplomatically handled the relations in his meeting with Lord Chocrane of Britain. Unlike one might expect from such a renowned admiral, statesman, and one of noble rank, Miaoulis was a humble man. At this meeting, he was still the admiral of the Greek fleet, but it was necessary to engage European allies for the ultimate success of Greek independence.
Even though Miaoulis knew that this would mean a shift of command of the fleet to Lord Chocrane, the patriot that he was did not allow him to selfishly covet the position. Without hesitation, and with concern for his country above his own ambition and position of authority, he offered his services to Lord Chocrane.
Contributions After the War
Andreas Miaoulis continued his patriotic service to his country even after the war ended. He successfully sought to keep pirates from overtaking merchant vessels in the Aegean archipelagos. Though his efforts did not completely stop piracy on the Greek seas, the pirates' attempts were thwarted throughout the time Miaoulis was in charge of this effort.
He died in Athens on June 24, 1835. Annually, the Greeks honor him with a festival called Miaoulia, celebrated on the weekend of the year closest to the date of his death, always the 4th weekend of June. Present-day features of the festival include fireworks, parades, and art exhibits. Memorabilia in his honor, such as this coin, is a valuable collector's item.
A bronze statue on the port of Hydra, overlooking the sea, memorializes his great contributions to his country. He is depicted as at the helm, carrying his looking glass.
Categorized in: Modern Greek History
This post was written by Greek Boston
Share this Greek History Article: