Get to Know El Greco – Famous Painter from Crete
Written by Greek Boston in Modern Greek History Comments Off on Get to Know El Greco – Famous Painter from Crete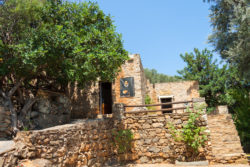 Most of us know El Greco as a famous painter from Spain. However, he wasn't actually a native born Spaniard, he was born in Greece, specifically on the island of Crete. Because of his roots, however, he is definitely a part of Greek history. Here's more information about who El Greco was, as well as his ties to the island of Crete:
Who El Greco Was
El Greco, who was born in 1541 and died in 1614 was an artist, sculpture, and architect. His given name was Doménikos Theotokópoulos, and he was born on Crete, which was then called the Kingdom of Candia and was part of the Republic of Venice. He first became known as El Greco, which simply means "The Greek," during his years in Italy. El Greco usually signed his work with his full name using Greek letters, and he would often add the word "Krēs," which is Greek for "Cretan."
El Greco's Early Years
El Greco's family were wealthy merchants. He studied the classics of ancient Greece and Rome and began his artistic training by learning how to paint icons in the post-Byzantine style. Candia, which was a hotbed of artistic activity, had a painters' guild and El Greco earned a mastery from the guild in 1563 when he was 22 years old. During his time on Crete, he painted "Dormition of the Virgin."
Time in Italy
El Greco emigrated to Venice proper in 1567 and stayed there for three years. During that time, he studied under the great painter Titian. In 1570, El Greco traveled to Rome. A friend, Giulio Clovio, provided him with a letter of introduction to Cardinal Alessandro Farnese, whose palazzo was a center of art and literature. He welcomed El Greco as his guest. El Greco began experimenting with the different techniques and styles of painting he saw.
Living in Spain
In 1577, El Greco moved to Madrid and later to Toledo, which was then the religious capital of Spain. At the time, El Escorial, a huge monastery-palace was being constructed, and King Philip II was having trouble finding skilled artists to handle the painting. The man he'd commissioned had died, and other artists refused to come to Spain.
El Greco hoped to win the king's favor, and the latter did commission him to paint "Martyrdom of St. Maurice" and "Allegory of the Holy League." Unfortunately, King Philip II did not like either work. Scholars aren't sure why Philip had disliked El Greco's works. Some speculate that the king had objected to El Greco's including living people in a religious scene, or he may have simply disliked the artist's style.
El Greco's Clients
El Greco's first client in Toledo, however, was the church Santo Domingo el Antiguo, and he had much better luck working for them. Over two years, El Greco produced nine paintings for Santo Domingo. Two of them, "The Assumption of the Virgin" and "The Trinity," cemented El Greco's reputation as a great painter.
By 1585, El Greco had established a workshop that could produce statues and altar frames in addition to paintings. He also hired another painter to serve as his assistant. A year later, he was commissioned to paint his best-known work, "The Burial of the Count of Orgnaz."
El Greco's Later Life
El Greco adopted Toledo as his home. A Spanish woman, Jerónima de Las Cuevas, became his lover. While there is no record of whether or not they got married, they did have a son named Jorge Manuel Theotocópuli in 1578. He eventually became an architect and painter in his own right.
El Greco continued working and produced many paintings and sculptures during the 1590s and 1600s. In 1614, he was working on a piece for the Hospital de Tavera and that's when he fell ill and died. He is buried in Santo Domingo.
Source:
Categorized in: Modern Greek History
This post was written by Greek Boston
Share this Greek History Article: