About Folegandros, Greece
Folegandros is a Greek island in the Aegean Sea. It is part of the Cyclades group of islands. A paved roads connects the three small villages of the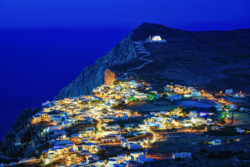 island. These villages are Chora, Karavostasis, and Ano Meria. The villages have kept their traditional architectural style and character. The houses are typical Cycladic style with whitewashed walls and colorful doors and windows. The landscape of the island of Folegandros is varied. It consists of tall cliffs, a large cave, and beaches with crystal water. The island has been described as a large, dry rock in the middle of the sea, rather than an island you may expect to see. The beauty and uniqueness of the island definitely lies in its rocky character. Cultivation on the island is rare.
Greek mythology says the name Folegandros came from a son of Minos, who was the first king of Crete.
While there isn't much known about the history of the island of Folegandros, it is known that during ancient times, the island was inhabited by the Dorians. It would later come under Athenian rule. The island contained a city-state called Pholegan, which was where modern Chora is. It was a member of the Delian League and appeared on the Athenian tribute lists from 425/4 and 416/15 BC. In 1207 the island of Folegandros was conquered by Venetian Marco Sanudo. It would remain under Venetian rule until 1566. It was at this time the island was taken by the Ottomans. The Greeks would reclaim the island of Folegandros in the 19th century.
Administrative Region of Folegandros Island, Greece
South Aegean
Area of Folegandros Island, Greece
32.216 km2 (12.439 sq mi)
Population of Folegandros Island, Greece
765
Top Attractions in Folegandros Island, Greece
Chrissopilia Cave – This cave is only reachable by boat. It's an impressive natural monument to be seen. Findings from the cave include human remains, a Roman cistern, and ancient vases.
Church of Panagia – Located on a hill above Folegandros Town. Walk to the church from Chora in just 10 minutes along a paved path. In the yard of the church you will see the remains of an ancient temple.
Folklore Museum – Located in Ano Meria. This museum is housed in an old agricultural house. You will step back in time as you see the old wooden stove, stable, well, olive press, and more.
Karavostasi Beach – 3 km southeast of Folegandros Town near the harbour. A family friendly beach with shallow water and sandy sea bottom. This beach is partly organized.
Ambeli Beach – Located 8 km northwest of Folegandros Town. A quiet and secluded beach, perfect for when you're looking to relax. This beach is not organized and there are some rocky areas.
Galifos Nudist Beach – Whether you're a nudist or not, this beach is lovely to visit. Crystal clear water and somewhat rocky beach. Beautiful place to swim and enjoy the landscape.
Aspropounta Lighthouse – Located in Livadaki. Lighthouse started operating in 1921 and has seen the growth of technology, using solar energy since 1986. The lighthouse can be seen during a walk on the island.
Katergo Beach – Hike or take a boat to this beach. Taking a boat will give you a unique view of the beach from the water. Partly sandy, partly pebbled beach with gorgeous colored water.
BELOW ARE INTERESTING ARTICLES ABOUT FOLEGANDROS, GREECE: