Visit Chrissospilia Cave on Folegandros
Written by GreekBoston.com in About Folegandros, Greece, Greek Travel Guide Comments Off on Visit Chrissospilia Cave on Folegandros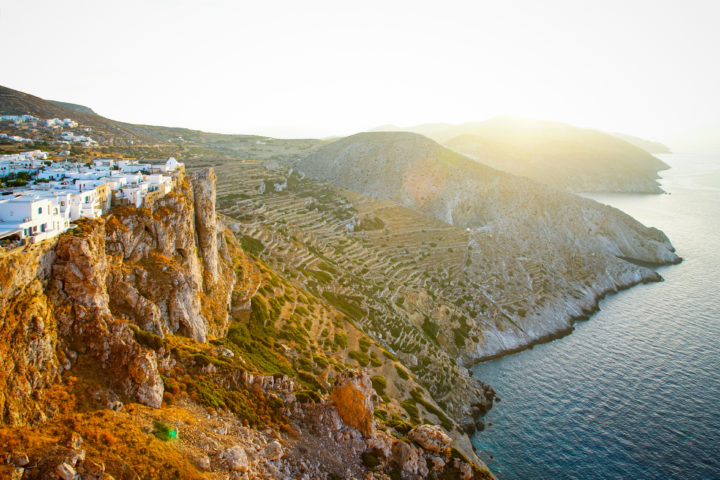 The small island of Folegandros is a tranquil destination. At just 8 miles long and 3 miles wide, the island is rocky, yet fascinating. There isn't a lot to see in Folegandros, but the sightseeing that exists is worth the trip. Folegandros is known for its beautiful beaches, azure waters, and hidden coves. When visiting the island, one attraction you should see is Chrissospilia Cave.
About Chrissospilia Cave
Chrissospilia Cave is located in Folegandros, Greece on the northeastern side of the island. The cave sits 10 meters above the sea. Chrissospilia Cave is protected by the Archaeological Service. This means you need a special permit to visit the cave, which is reachable only by boat. Findings in the cave have revealed human skeletons, potsherds, a Roman cistern, and broken vases. Ancient names and surnames have also been found on the walls of Chrissospilia Cave written with clay mud. These findings make the cave a unique find in Greece. The cave may have once been a place of worship during the 4th century, but this is not yet confirmed. Excavations are still taking place in Chrissospilia Cave.
One thought is that the names on the walls of the caves belong to young men who were taking part in a right of passage to adulthood. These young men would come from all over Greece to take part. Getting to Chrissospilia Cave would be their first test as it required physical strength and bravery. Once inside the cave, they would go through various rituals.
Chrissospilia Cave consists of two chambers that are connected by a narrow passage. The ceiling of one of the chambers has stalactites. The cave also consists of stalagmites. During antiquity, steps that are known as the "Hellenic steps" were built leading up to the cave.
Visit Chrissospilia Cave on Folegandros
Visiting Chrissospilia Cave might be difficult, but it's worth the trip if you get a special permit from the community. Otherwise, you can only view the cave from the water, but it's an interesting sight to see, especially if you know the story about the right of passage for young men. You can visualize them making the journey up the cave and taking part in rituals.
There are boat tours available around the island of Folegandros. You might catch a glimpse of Chrissospilia Cave during one of these tours.
Getting to Chrissospilia Cave
There is no airport on the small island of Folegandros. The closest airport is on Santorini. You can get to the island of Folegandros from Santorini by taking a one hour long boat ride. The ferry from Athens takes 6-8 hours. Chrissospilia Cave can only be reached by boat.
When visiting the island of Folegandros, be sure to take a boat to explore the area of Chrissospilia Cave.
Categorized in: About Folegandros, Greece, Greek Travel Guide
This post was written by GreekBoston.com
Like this article? Please share below: