Folegandros Beaches You'll Want to Visit
Written by Greek Boston in About Folegandros, Greece, Greek Travel Guide Comments Off on Folegandros Beaches You'll Want to Visit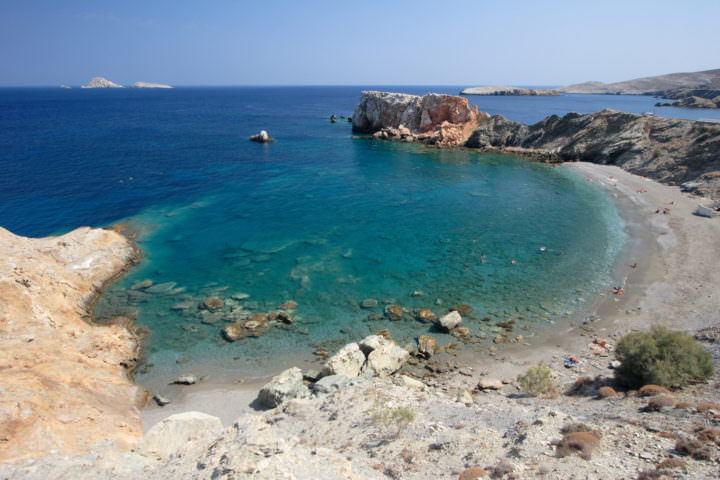 Folegandros is one of those islands in the Cyclades that has an enchanting, magical appeal. Like all the Cycladic islands, Folegandros is filled with gorgeous scenery and an easy, relaxed atmosphere. The rolling hills, photogenic villages, and easy atmosphere are all part of the life here. While visiting, however, you absolutely won't want to miss the chance to visit some of the beaches. Here's a look at some of the best beaches to visit while on the island:
Karavostasi Beach
One of the benefits to spending the day at Karavostasi Beach is that it is in a great location. Since it is close to the port, which is where much of the activity on the island is concentrated, this is an ideal choice for those who don't have long to spend on the island. This beach is also known as being one of the best places on the island for swimming since the waters here are so warm and calm. It is also a great place to go walking since the beach itself is so long. It is one of those places that is also ideal for families who are looking to relax and enjoy themselves in the sun. The calmness of the waters also increases the safety of small children.
Agali Beach
If you love the hustle and bustle of a popular beach, you won't want to miss the chance to visit Agali Beach! The gorgeous scenery and relaxed charm of this beach make the beach a great choice for visitors and locals alike. During the summer months, there is a healthy scene here and plenty of tavernas, restaurants, and cafes near the beach to sustain a healthy amount of activity from its visitors. However, after tourist season is over, many of these places tend to close down since the number of visitors who come here in the offseason is too low for these places to justify staying open. While on the island during peak season, this is one beach you won't want to miss.
Vardia Beach
This is another great beach to spend time at in Folegandros. Vardia Beach is also within close proximity of several resorts, so this is a great beach to visit especially if you are staying nearby. It is also close to the port, which means that it is another convenient choice to enjoy during a short stay. Like most beaches on the island, this is an ideal place to relax and enjoy the sunshine. The beach is also made up of a fine sand and the sun is warm and inviting.
Ambeli Beach
Although the beachside area at Ambeli Beach is rather small, venturing here is still worth the effort. Surrounded by rocks, this beach is shielded pretty well from the wind, which means that spending time here will be even more relaxing than it is at some of the other beaches. This beach also isn't accessible by car, bus, or taxi and that means that people who come here need to either reach it by foot or take a boat. Spending time here appeals to the most adventurous and those who are looking to find a little solitude.
Agios Georgios Beach
Another beach you'll want to visit on Folegandros is Agios Georgios Beach, which is known for its relaxing atmosphere. This is a beach that is also known for its warm, crystal clear water. Unlike some of the other beaches on the island, Agios Georgios is made of beautiful, soft sand. However, since the wind can be aggressive here, it is a good idea to check the weather report. There are other beaches that are less windy that you can enjoy during your stay on the island.
Ligaria Beach
If you are craving a beach that seems to be tucked out of the way, Ligaria is the place to be! This is a gorgeous beach that somehow doesn't attract the crowds of the other three mentioned here. It's also incredibly beautiful and worthy of exploring. Unfortunately, there are no services here, which means that you will need to bring your own chair, towel, and umbrella. The beach is also easily accessible from the village of Ano Meria.
While on Folegandros, you should make the time to visit these beautiful beaches!
PLEASE NOTE: The Greek travel section at GreekBoston.com are not paid reviews. Our unbiased and informative travel articles are designed review the popular cities, islands and places in Greece. We are not always able to exactly match the photos to the destinations, but we do try to get close. However, we are not looking for photo submissions at this time. If you find something in a Greek travel article that is not accurate based on your personal experience, please send us an email to greekboston@worldwidegreeks.com and we will consider your suggestions. Thanks for reading the travel section at GreekBoston.com!
Categorized in: About Folegandros, Greece, Greek Travel Guide
This post was written by Greek Boston
Share this Greek Travel Article: