Recipe for Greek Style Pita with Salt Cod Recipe
Written by Greek Boston in Authentic Greek Food Recipes, Greek Pie and Pita Recipes Comments Off on Recipe for Greek Style Pita with Salt Cod Recipe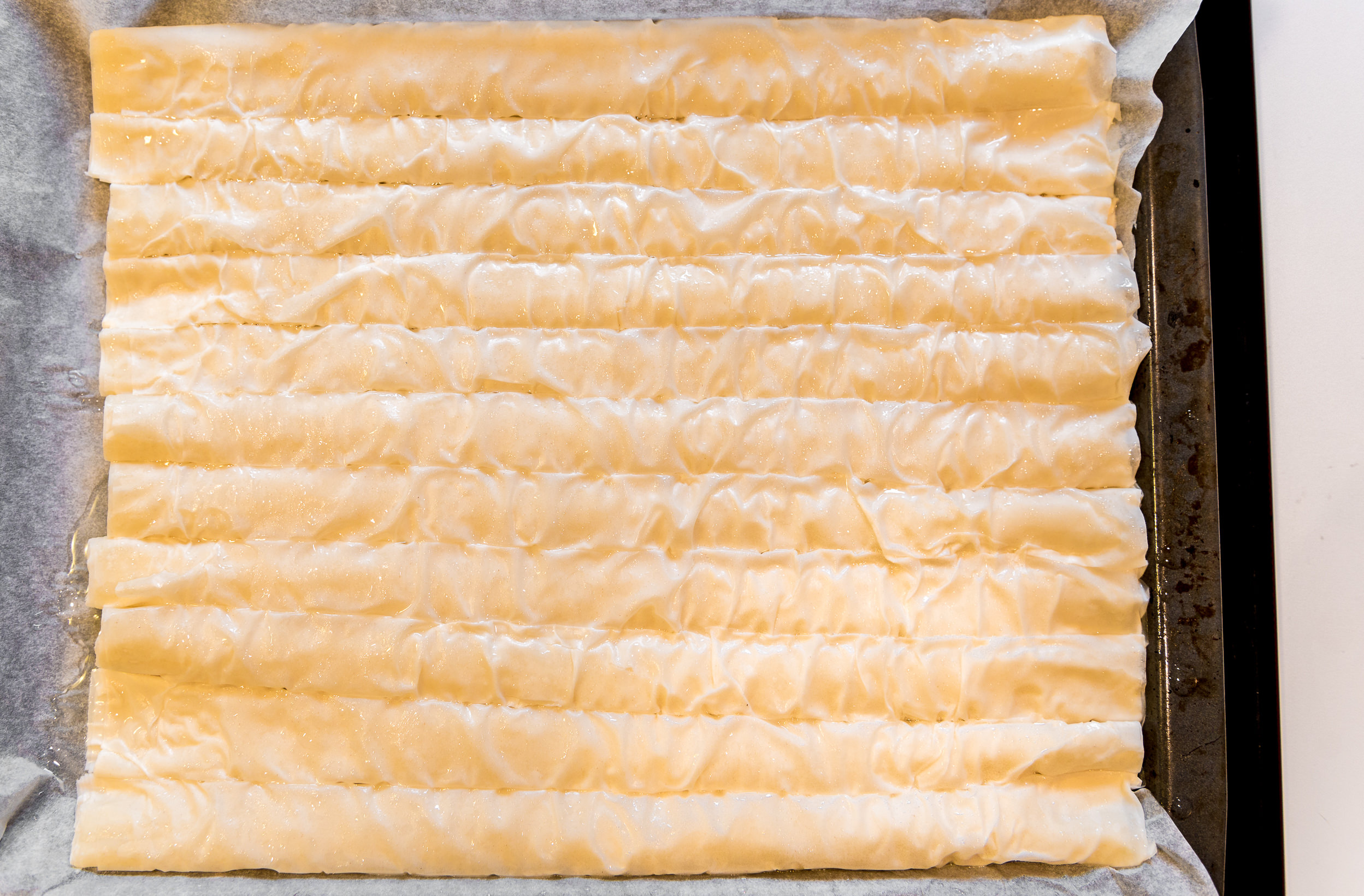 This savory Greek-style pita has an unexpected but delicious filling. Salt cod is widely available in markets all over the word and is used for a variety of purposes in Greek cuisine. This delicious pita is flaky and offers a tasty way to use this salt cod.
Greek Style Pita with Salt Cod (Bakaliaropita) Recipe Ingredients:
1 pound salt cod, soaked in water overnight (change the water several times)
1/2 cup dry red or rose wine
1/4 cup plus 2 tablespoons olive oil
4 cups chopped onion
4 garlic cloves, chopped
1 teaspoon red pepper flakes
1 1/2 pounds zucchini, grated
1 pound ripe tomatoes, cored and finely chopped
1 cup chopped, fresh parsley
2/3 cup medium-grain rice, soaked in warm water for ten minutes
1/2 teaspoon ground cinnamon
1/2 teaspoon salt
Melted butter
12 sheets phyllo dough
Instructions on How to Make Greek Cod Pie:
Drain the salt cod on paper towels until most of the moisture is gone. Remove any bones still in the salt cod and then cut the pieces into strips at about 1/4 inch thick. Add 1/4 cup of oil to a frying pan, add the salt cod, and saute it for five minutes. Add the wine to the pan and let it cook for another minute. Remove it the pan the heat and let it sit.
Preheat the oven to 350 degrees Fahrenheit.
In another skillet, add the remaining two tablespoons of olive oil and the onions and saute the for five minutes over medium heat or until they become translucent. Add the garlic and pepper and let it saute for another minute. Remove it from the heat and let it sit.
Brush a 12 x 18 baking dish with butter and line it with six sheets of the filo. Brush each sheet of filo with butter after you set it down on the pan.
Add the salt cod mixture with the pan juices, onion mixture, zucchini, tomatoes, parsley, rice, cinnamon, and salt and mix them together with a wooden spoon. Add them to the prepared baking dish. Add the rest of the filo, brushing each sheet with more butter. Brush the top sheet with extra butter. Cut two long slits into the pita using a sharp knife and place the pan in the center of the preheated oven. Bake until the filo is golden brown, which should take 30-40 minutes. Remove from the oven and let the pita cool slightly before serving.
PLEASE NOTE: Greek recipes can be slightly different based on a variety of reasons, such as the region of Greece that the recipe is being made in. If you have seen this Greek recipe made another way, please send us an email to greekboston@worldwidegreeks.com and we will evaluate your suggestion. Thanks!
Categorized in: Authentic Greek Food Recipes, Greek Pie and Pita Recipes
This post was written by Greek Boston