Recipe for Greek Pastry Kataifi
Written by Greek Boston in Authentic Greek Food Recipes, Greek Desserts Recipes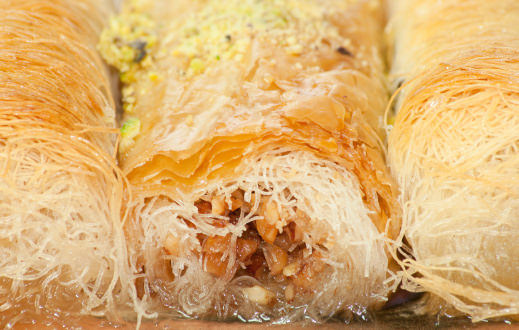 Kataïfi is a traditional Greek pastry made with nuts on the inside and soaked in sugar or honey syrup. With packaged kataifi dough, you'll find it a very easy Greek dessert to make.
Kataifi Recipe Ingredients:
3 lbs. packaged kataifi dough
4 cups almonds
1 1/2 cups butter
1 teaspoon cinnamon
Pinch of allspice
2 eggs
4 tablespoons sugar
Kataifi Syrup Recipe:
3 lbs. 6oz. sugar
5 cups water
1 lemon rind
1 teaspoon lemon juice
Directions on How to Prepare Kataifi:
Preheat the oven to 350 Degrees Fahrenheit.
Blanch the almonds and chop in small pieces. Put them in a bowl with sugar, cinnamon and eggs.
Gently open the kataifi pastry with your fingers, lay it on a piece of wood or marble and put one tablespoonful of almond mixture on one end, then roll the kataifi pastry into a cylinder.
Take care to fold the pastry a little tight at first so that the filling is securely enclosed.
Put it in a buttered baking dish. Melt the butter and cover every piece of rolled with it.
Place pan in the center of the oven and bake for about 30 minutes, or until the pastry is  light golden brown in color.
Meanwhile, prepare the syrup. Cook the sugar with the water and lemon rind for five to ten minutes.
Add the lemon juice and let all briefly cook until the syrup becomes somewhat thick.
After removing the kataifi from the oven and before it becomes cold, pour the syrup over it. Cover the pastry with a clean towel and let cool as it absorbs the syrup.
Note: be careful to leave a little space between each piece of kataifi when placing them in the baking dish. If you don't, they touch each other, the sides of each won't bake and the syrup will make the pastry soggy.
**Please Note:  Recommended cook times for GreekBoston.com Greek recipes vary depending on elevation, environmental conditions, the cookware being used, and the nature of the oven or stove. Although we have given approximations, these don't always take into account your unique environment.
PLEASE NOTE: Greek recipes can be slightly different based on a variety of reasons, such as the region of Greece that the recipe is being made in. If you have seen this Greek recipe made another way, please send us an email to greekboston@worldwidegreeks.com and we will evaluate your suggestion. Thanks!
Categorized in: Authentic Greek Food Recipes, Greek Desserts Recipes
This post was written by Greek Boston