Recipe for Greek Style Scrambled Eggs
Written by GreekBoston.com in Authentic Greek Food Recipes, Greek Egg Recipes Comments Off on Recipe for Greek Style Scrambled Eggs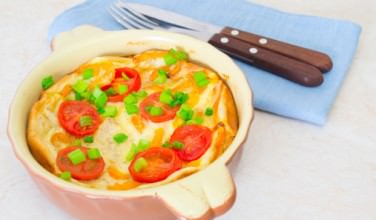 Strapatsatha, or στραπατσάδα, is a Greek egg dish that incorporates feta cheese, onions, and fresh tomatoes. Some versions of this recipe also include olives, but that's completely optional. To give this something extra, feel free to garnish it with some grated kafalotiri or fresh, chopped herbs such as parsley, dill, chives, or green onions.
Greek Style Scrambled Eggs (Strapatsatha) Recipe Ingredients:
5 large eggs
1 tablespoon water
Salt and pepper, to taste
3 ounces crumbled feta cheese
1 small onion
4 tablespoons olive
3 medium sized ripe tomatoes, diced
Directions on How to Make Greek Scrambled Eggs:
Crack the 5 eggs into a medium bowl. Add water and salt and pepper and scramble vigorously with a balloon whisk. Stir in feta cheese and set aside.
Peel and chop the onion. Add the olive oil to a skillet and set on medium heat. Heat oil for about 30 seconds and then add the onion. Sauté the onion for about 5 minutes until it gets soft. Add the diced tomato and cook for 1 minute, until the flavors start to combine. Slowly add the egg mixture and scramble in the pan until the eggs are cooked all the way through. Garnish the eggs with grated cheese or fresh herbs, if desired.
PLEASE NOTE: Greek recipes can be slightly different based on a variety of reasons, such as the region of Greece that the recipe is being made in. If you have seen this Greek recipe made another way, please send us an email to greekboston@worldwidegreeks.com and we will evaluate your suggestion. Thanks!
Categorized in: Authentic Greek Food Recipes, Greek Egg Recipes
This post was written by GreekBoston.com
Like this article? Please share below: