Recipe for Greek Baklava
Written by GreekBoston.com in Authentic Greek Food Recipes, Greek Desserts Recipes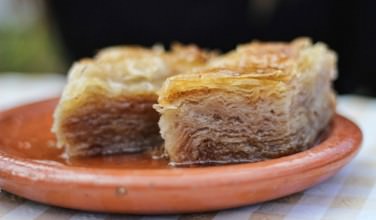 Baklava is a rich, sweet pastry made of layers of phyllo pastry filled with chopped nuts and sweetened with syrup made from sugar and/or honey. At Christmastime in parts of Greece, such as Evros, sesame seeds are used instead of almonds, walnuts, or pistachios. If looking for something sweet to eat during fasting periods, such as Great Lent, use sesame seeds instead of the other nuts, and substitute all butter for olive oil.
WATCH THE VIDEO BELOW TO LEARN HOW TO MAKE BAKLAVA:
Instructions on How to Bake Baklava:
For the Filling:
1 1/2 cups butter
1 lb. phyllo dough
1 lb. chopped almonds, walnuts, pistachios or whole sesame seeds
1/4 cup sugar
1 teaspoon cinnamon
1/2 teaspoons cloves
Pinch of allspice
For the Syrup:
3 cups sugar
1 cup honey
3 cups water
1 cinnamon stick
Zest of 1 orange or lemon
Directions:
Preheat oven to 325 Degrees Fahrenheit.
Melt the butter in the microwave or in a medium saucepan. Brush a 9 x 13 baking dish on the bottom and all the sides with the butter using a pastry brush. Place 1 sheet of phyllo dough into the baking dish and brush with butter. Place a second pastry sheet on top of the first and butter again. Repeat until 6 layers of buttered pastry sheets have been built up.
Mix walnuts or almonds, sugar, cinnamon, and cloves into a medium-sized mixing bowl. Sprinkle top pastry sheet thick with walnut mixture and place one sheet of phyllo on top of the mixture. Brush the sheet with melted butter, and then place another sheet of phyllo on top. Brush that sheet with butter, as well. Repeat in same manner until all ingredients have been used, ending with 6 pastry sheets.
Brush top with remaining butter and trim edges with sharp knife. Cut diagonal lines the length of the pan to make diamond shaped pieces. Sprinkle with water.
Bake in the center of the oven for about 1 hour or until golden.
While the baklava is baking, make the syrup. Add the sugar, water, zest of orange or lemon, cinnamon, and allspice to a large saucepan. Bring to a boil and then simmer the syrup for about 10 minutes. Pour the hot syrup on top of the baklava right after it comes out of the oven. Let the baklava sit on the counter at room temperature until cooled completely. Refrigerate for at least 2 hours before cutting into small pieces.
*Please Note:  Recommended cook times for GreekBoston.com Greek recipes vary depending on elevation, environmental conditions, the cookware being used, and the nature of the oven or stove. Although we have given approximations, these don't always take into account your unique environment.
PLEASE NOTE: Greek recipes can be slightly different based on a variety of reasons, such as the region of Greece that the recipe is being made in. If you have seen this Greek recipe made another way, please send us an email to greekboston@worldwidegreeks.com and we will evaluate your suggestion. Thanks!
Categorized in: Authentic Greek Food Recipes, Greek Desserts Recipes
This post was written by GreekBoston.com
Like this article? Please share below: