Recipe for Greek Style Octopus
Written by Greek Boston in Authentic Greek Food Recipes, Greek Orthodox Fasting Lenten Recipes, Greek Style Seafood Recipes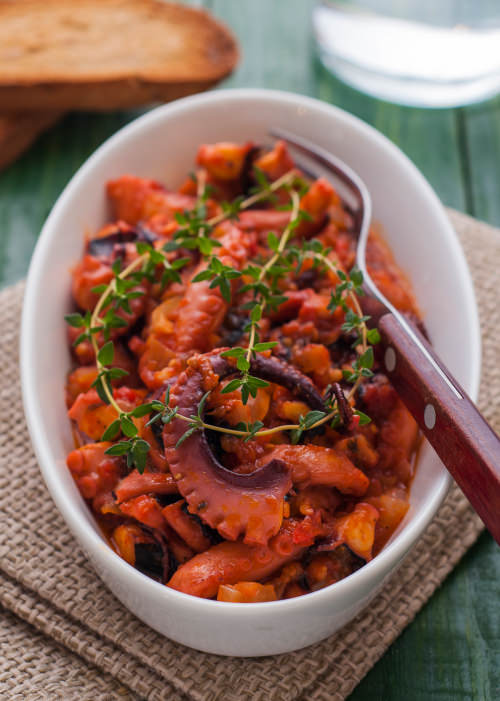 The octopus is one of the most characteristic motifs of the Grecian "marine style" of design and art, which was invented by the Minoans and was adopted by the Mycenaean culture, both ancient Greek civilizations. And modern Greeks really love octopus as a main course.
Greek Style Octopus with Sauce Recipe Ingredients:
1 octopus weighing about 3 1/2 lbs.
1 cup olive oil
2 cloves garlic
1 lb. chopped onion
1/2 cup red wine
1 1/2 lbs., peeled and diced tomatoes
Pepper
Directions on How to Make Greek Style Octopus:
Clean and wash the octopus. Place the octopus in a large pot and heat on medium without adding water since the octopus will release its own juices. When the water that gets released begins to boil, simmer the octopus on low heat for 10 minutes. Remove the octopus from the pot and peel away the skin. Drain the water from the pan.
Cut octopus into small pieces and return to the saucepan. Add the oil, garlic and onions. Sauté for a few minutes over high heat.Pour over the wine and when it has almost evaporated, add the tomatoes and pepper. Cover and cook very slowly for about 2 hours or until tender and the sauce is thick.
** This recipe contains olive oil, so it won't be suited for a strict fast.
PLEASE NOTE: Greek recipes can be slightly different based on a variety of reasons, such as the region of Greece that the recipe is being made in. If you have seen this Greek recipe made another way, please send us an email to greekboston@worldwidegreeks.com and we will evaluate your suggestion. Thanks!
Categorized in: Authentic Greek Food Recipes, Greek Orthodox Fasting Lenten Recipes, Greek Style Seafood Recipes
This post was written by Greek Boston