Recipe for Magiritsa (Greek Easter Soup)
Written by Greek Boston in Authentic Greek Food Recipes, Greek Easter Traditions, Greek Soup Recipes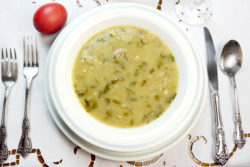 The main Easter meal in Greece has traditionally been a lamb or goat, and this Easter soup was designed to use the leftover parts so that nothing went to waste. This soup is prepared on Holy Saturday and eaten to break the fast after midnight church services.
Greek Easter Soup Recipe Ingredients:
Liver, lungs, heart and intestines of a young lamb
Salt
Juice of one lemon
5 finely chopped chives
1/2 cup butter
1/2 bunch chopped dill
Pepper
6 tablespoons rice
Egg and lemon sauce
Instructions to Prepare Greek Easter Soup (Margaritsa):
Wash liver, lungs and heart. Wash the intestine and turn it inside out, using a pencil. Rub it with salt and lemon juice and wash thoroughly.
Bring to boil 7 cups water and put in the liver, lungs, heart and intestine. As it begins to boil, remove the scum that forms on top, add salt and simmer for 30 minutes.
Drain meat and cut into very small pieces.
Sauté chives in the butter, in a saucepan, until soft. Add chopped meat, dill, and pepper. Cook, stirring for a few minutes.
Add the stock and simmer for 25 minutes.
20 minutes before serving time and add rice. Remove from heat and prepare egg and lemon sauce.
Add to soup, stir well and serve very hot.
PLEASE NOTE: Greek recipes can be slightly different based on a variety of reasons, such as the region of Greece that the recipe is being made in. If you have seen this Greek recipe made another way, please send us an email to greekboston@worldwidegreeks.com and we will evaluate your suggestion. Thanks!
Categorized in: Authentic Greek Food Recipes, Greek Easter Traditions, Greek Soup Recipes
This post was written by Greek Boston