Recipe for Greek Style Tomato Sauce
Written by Greek Boston in Authentic Greek Food Recipes, Greek Orthodox Fasting Lenten Recipes, Greek Vegan Food Recipes, Recipes for Greek Sauces and Dips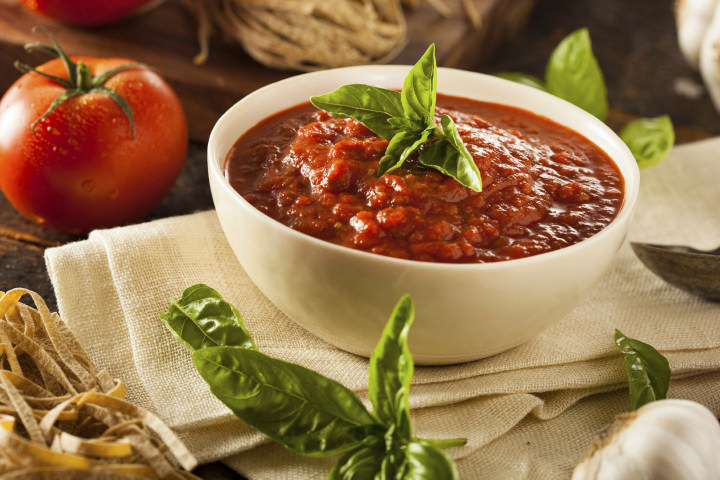 Just about every culture has some kind of tomato based sauce, including France, Italy, Mexico, and even India. A simple and easy tomato sauce recipe is something every home cook can execute.
Greek Style Tomato Sauce (Saltsa Tomata) Ingredients:
1/2 cup olive oil
2 cloves chopped garlic
3 tablespoons chopped, fresh parsley
2 lbs. fresh, peeled and sliced tomatoes
1 tablespoon chopped, fresh basil
1 teaspoon dried oregano
1 1/2 teaspoon salt
1/4 teaspoon pepper
Directions to Make Greek Tomato Sauce:
Heat the oil in a saucepan; add garlic and 3 tablespoons parsley and cook slowly for 3 minutes. Add remaining ingredients, cover and cook over a very low heat for about 45 minutes or until thick.
** This recipe contains olive oil, which isn't permitted during strict fasting. If you adhere to a strict fast, omit the olive oil and using nonstick cooking spray in a nonstick pan to sauté, instead.
PLEASE NOTE: Greek recipes can be slightly different based on a variety of reasons, such as the region of Greece that the recipe is being made in. If you have seen this Greek recipe made another way, please send us an email to greekboston@worldwidegreeks.com and we will evaluate your suggestion. Thanks!
Categorized in: Authentic Greek Food Recipes, Greek Orthodox Fasting Lenten Recipes, Greek Vegan Food Recipes, Recipes for Greek Sauces and Dips
This post was written by Greek Boston