Recipe for Greek Zucchini Croquettes
Written by Greek Boston in Authentic Greek Food Recipes, Greek Vegetable Recipes
This dish is a great appetizer or main course. Great in the summer when gardens are abundant!
Greek Zucchini Croquettes (Kolokithokeftedes) Recipe Ingredients:
1 1/2 pounds zucchini, trimmed and grated
2 bunches scallions, including green stems, finely chopped
6 oz Feta cheese, crumbled
½ cup grated Parmesan cheese or Kefalotiri
2 eggs, beaten
4 tablespoon fresh dill, chopped
Salt, Pepper
1 2/3 cups all-purpose flour
Lemon
½ cup virgin olive oil for frying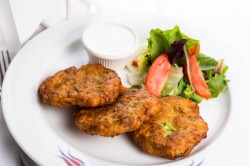 Instructions to Make Greek Zucchini Croquettes:
In a large bowl, mix together grated zucchini, green onions, cheeses, eggs and dill. Mix in flour and season to taste with salt and pepper. Cover and refrigerate for at least half an hour.
Heat half of the olive oil in a heavy skillet. Scoop out the mixture with a tablespoon and shape into round, flat fritters. If the mixture is too wet to shape, add a little flour. Cook the fritters over medium heat, 5 minutes on each side until golden brown.
Remove the fritters from the pan and place on paper towels to absorb the oil.
Squeeze a little lemon on top and serve hot.
PLEASE NOTE: Greek recipes can be slightly different based on a variety of reasons, such as the region of Greece that the recipe is being made in. If you have seen this Greek recipe made another way, please send us an email to greekboston@worldwidegreeks.com and we will evaluate your suggestion. Thanks!
Categorized in: Authentic Greek Food Recipes, Greek Vegetable Recipes
This post was written by Greek Boston