Recipe for Greek Style Stuffed Eggplant
Written by GreekBoston.com in Authentic Greek Food Recipes, Greek Orthodox Fasting Lenten Recipes, Greek Vegan Food Recipes, Greek Vegetable Recipes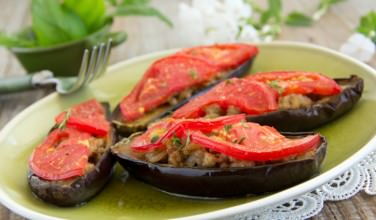 Eggplant is a favorite in Greek cooking and melitzanes me lathi is a classic Greek dish. This eggplant recipe is great as a main dish because it's incredibly filling, super fresh, and utterly delicious.
Greek Style Stuffed Eggplant (Melitzanes Imam) Recipe Ingredients:
2 lbs. long type eggplants
1 cup olive oil
2 sliced thinly onion
2 lbs. ripe tomatoes
Chopped parsley
3-4 cloves, sliced garlic
Pepper
Salt
2 tablespoons sugar
Instructions to Make Greek Stuffed Eggplant:
Cut off the green end of each eggplant and in each one make a deep slit almost from end to end.
Heat the oil in a frying pan and fry the eggplants over a low heat 10 minutes, turning once or twice.
Remove from the pan and put into a casserole.
In the same oil in the frying pan, sauté the onions until soft.  Add 2 peeled and chopped tomatoes, parsley, garlic, salt and pepper. Allow the mixture to cook for 15 minutes and fill the slits of the eggplants.
Force remaining tomatoes through a sieve and pour over the eggplants.
Add salt, pepper and sugar.
Cover and cook over a low heat or in medium oven for 40 to 45 minutes.
PLEASE NOTE: Greek recipes can be slightly different based on a variety of reasons, such as the region of Greece that the recipe is being made in. If you have seen this Greek recipe made another way, please send us an email to [email protected] and we will evaluate your suggestion. Thanks!
Categorized in: Authentic Greek Food Recipes, Greek Orthodox Fasting Lenten Recipes, Greek Vegan Food Recipes, Greek Vegetable Recipes
This post was written by GreekBoston.com
Like this article? Please share below: