Valentine's Day Gift Ideas for Greek Singles
Written by Greek Boston in Greek Singles Comments Off on Valentine's Day Gift Ideas for Greek Singles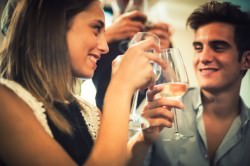 Even though Valentine's Day isn't typically celebrated in Greece, its popularity in the United States means that the Greeks in America will need to find a way to honor their sweethearts. For Greek singles, you could find yourself on a date for Valentine's Day, which means that the expectation to be romantic is even greater than usual.
Also, there are certain expectations that come with going out on Valentine's Day. Not only does the type of date actually matter, but also there is an expectation that there will be gifts. And yes, this holds true even if you are on a first date or if you've only been out a few times. The gift doesn't need to be expensive, but it does need to be thoughtful and romantic.
Here are some Valentine's Day Gift Ideas for Greek Singles.
Give Her Flowers
It doesn't matter if you picked up a dozen roses at the gas station on your way to pick her up. It's still a dozen roses and she doesn't need to know where you got them. Even though they are fairly cliché, giving her a bouquet of flowers is a universal gesture of romance. In fact, flowers are a great gift idea for any romantic situation from first dates to long-term relationships.
Satisfy Her Sweet Tooth
Retail stores start selling Valentine's Day themed chocolates weeks in advance. This means that chocolates are another great gift idea for your sweetheart. If you want to get extra points, find out what kind of chocolate she likes best and give her a big box of them on Valentine's Day. If you have no idea what she likes, a variety box is also a nice touch.
Perfume or Cologne
A fragrance gift is also a popular choice for Valentine's Day and it's something that is appropriate for both men and women. However, since most fragrances are rather expensive, this isn't a good gift if you are casually dating them or are on a first date, unless you want to buy something expensive. You can buy a single bottle of perfume or cologne or invest in one of the guest sets that are released especially for Valentine's Day.
Wine or Champagne
This is an excellent choice for a Valentine's Day gift for several reasons. First, you can find wine, sparkling wine, and champagne at just about any price range. Second, the wine or champagne can actually be a part of the date, which means that it doesn't have to be a formal gift. For example, if she invited you over to her place for dinner, you can buy a nice bottle of wine as both a Valentine's gift and a gesture to the hostess. You may even be able to find wines from Greece.
Are you a Greek single who has a date for Valentine's Day? If so, then you may be wondering if you should get him or her a gift. Mostly, the expectation falls on the man to get the woman something, even if you don't know each other that well. When in doubt, get her something but keep it simple.
Categorized in: Greek Singles
This post was written by Greek Boston