About Heraklion, Greece
Heraklion is the largest city and capital of the island of Crete. Heraklion is the fourth-largest city in Greece and is close to the ruins of the palace of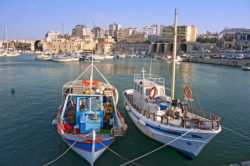 Knossos. During Minoan times, the palace was the largest center of population on Crete. Knossos had a port at the site of Heraklion, which was destroyed in 1500 BC by a volcanic tsunami. After the fall of the Minoans, Heraklion and the rest of Crete did not fair well. The arrival of the Romans would see construction begin again.
In 1204, the city of Heraklion was bought by the Republic of Venice in a complicated political deal. The Venetians would build large fortifications, many of which still stand today. A giant wall, seven bastions, and a fortress in the harbour are part of these fortifications. In 1212, in an attempt to secure their rule, the Venetians would bring people from Venice to settle on Crete.
During the Cretan War, the Ottomans besieged the city for 21 years. This may be the longest siege to have occurred in history. Under Ottoman rule, the city was known as Kandiye. In 1898, a Cretan State was create under Ottoman suzerainty, with Prince George of Greece as its High Commissioner. Around this time the city was renamed Heraklion. It was named after the Roman port of Heracleum. The location of this port is unknown. In 1913, along with Crete, Heraklion was incorporated into the Kingdom of Greece.
Heraklion has been home to many famous Greeks including authors Rea Galanaki, Lili Zografou, Elli Alexiou, and Tess Fragoulis (Greek-Canadian). The author of Zorba the Greek, Nikos Kazantzakis, hails from the city as well. Footballers Georgios Samaras and Nikos Machlas are also from Heraklion.
Administrative Region for Heraklion, Greece
Crete
Area of Heraklion, Greece
Municipality: 244.6 km2 (94.4 sq mi)
Municipal Unit: 109.0 km2 (42.1sq mi)
Population of Heraklion, Greece
Municipality: 173, 993
Municipal Unit: 166, 209
Top Attractions in Heraklion, Greece
Knossos Palace – A Minoan palace that is 20,000 square meters. It is the largest of the Minoan palatial structures. Original palace was built around 2,000 BC.
Fortress of Koules – Built by the Republic of Venice in the 13th century. The fortress is a Venetian Castle. Historical information is scattered throughout.
Caves of Matala – 70 km south of Heraklion. A former fishing village that is now under the water. Gorgeous sand and turquoise water surround the caves.
Gortyn Ancient Site – 44 km southwest of Heraklion. A Roman Odeon and Minoan law code have been excavated from this site. Was a Doric town in ancient times.
Aqualand – Founded in 1995. Home to reptiles, animals, fish and other marine life, and turtles. They also take injured animals who need a home.
Minos Winery – 18 km southeast of Heraklion. Was the first winery to bottle the wine of Crete. The winery also serves as a museum.
Venetian Loggia – Close to the old port of Heraklion. Constructed in the 17th century and used as a meeting place for noblemen. Now serves as the Town Hall.
Byzantine Collection – Located in Town. Housed in 15th century basilica. Features ecclesiastical items and Byzantine icons.
Stalida Beach – 33 km east of Heraklion Town. A popular beach with a number of hotels around. An organized beach known for its party atmosphere and water sports.
Tobrouk Beach – 10 km east of Heraklion Town. A large, partly organized beach. Water sports facilities on site.
BELOW ARE INTERESTING ARTICLES ABOUT HERAKLION, GREECE: