About Macedonia, Greece
Macedonia is a geographical region in Greece. Macedonia is a mountainous area with deep valleys and rolling hills and has three large lakes. The three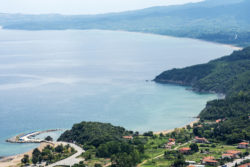 lakes are: Ohrid, Prespa, and Dojran. Lake Ohrid is the largest. Macedonia is bisected by the Vardar River. Macedonia is home to a wide variety of flora and fauna.
The earliest signs of human habitation dates to the Palaeolithic period at the Pertalona Cave. In this cave the oldest known European humanoid was found. During the Late Neolithic period, Macedonia was trading with distant regions, which brought quick socio-economic changes to the area.
According to Greek Mythology, Macedonia took its name from Makedona. Makedona was the patriarch of the Macedonian people. It's thought that he was the son of Zeus and Thias.
Greek historian Herodotus thought that Macedonians are descendants of Timenidon from Argos who settled in northern Greece. Historians also know that Greeks moved from northern Europe to the south around the 12th century BC.
Macedonia is home to many archaeological sites. A few important ones include: Dion, Philippi, Pella, and Vergina. Ancient Dion was a religious center for worshipping the Gods of Mount Olympus. Dion is where Phillip II came to celebrate his victories and his son Alexander would make sacrifices before going to fight in the East. In the 5th century, the capital of Macedonia changed from Vergina to Pella. At the Pella site there are amazing mosaics to see that were discovered in the remains of houses and public buildings. In 42 BC, Philippi was the site of the battle where the armies of Octavius and Mark Antony defeated the armies of Julius Ceasar's assassins. In 49 AD Saint Paul would preach to the residents of Philippi and end up in prison. Despite that event, Philippi was the first European city to accept Christianity.
Administrative Region for Macedonia, Greece
• East Macedonia and Thrace
• Central Macedonia
• West Macedonia
Area of Macedonia, Greece
34,177 km2 (13,196 sq mi)
Population of Macedonia, Greece
2,382,857
Top Attractions in Macedonia, Greece
Church of Agios Dimitrios – Located in Thessaloniki. A large church with a beautiful catacombs. The church was built in the 7th century AD and is a good example of Byzantine religious architecture.
The Rotunda – This cylindrical church was built in 306 AD. Beautiful mosaics, eight rectangular bays, and a flat brick dome are features of the Rotunda. A must-see when visiting Thessaloniki.
Old Monastery of St. Dionysius – Located at Mount Olympus. The monastery was established in 1542, but has been destroyed and rebuilt several times. Just a 20 minute walk from the monastery is the chapel of Saint Dionysios, built under an overhanging rock.
Dion Archaeological Site – This important religious center was used for worshipping Gods of Mount Olympus. The original statues found are in a museum, but on site are replicas. Located at the northeast foot of Mount Olympus.
Armenistis Beach – Located in Halkidiki, at the Sithonia peninsula. The sandy shore, exotic water, and water sports are features of this beach. The beach is family friendly and organized.
Museum of the Macedonian Struggle – Located in the city center of Thessaloniki. It is housed in a Neoclassical building designed by Ernst Ziller. The museum's collection includes rare 19th and 20th century artifacts related to everyday life in Macedonia, as well as weaponry, and original documents from 1770 – 1912.
Bezesteni Market – Built in 1455 – 1459 AD by Sultan Mehmet II, it is one of the oldest Ottoman buildings in Thessaloniki. A vibrant setting and great place to spend time wandering around. Explore clothes, shoes, meats, olives, vegetables, and more.
Kalamitsi Beach – A long beach that features exotic water. This beach is family friendly, secluded, and partly organized. Kalamitsi is located on the southeastern side of Sithonia, 93 km south east of Poligiros.
Platamonas Castle – A well-preserved castle from the 11th century, it is located on a coastal bluff near Platamonas Village. Platamonas Castle was once defended by Byzantines. Location also offer a great view of Mount Olympus and the sea.
Kalithea Beach – Located in the center of the Kassandra peninsula, 50 km south of Poligiros. A great place if you love nightlife, clubs, and beach bars. This beach features water sports as well.
BELOW ARE INTERESTING ARTICLES ABOUT MACEDONIA, GREECE: