About Meganisi, Greece
Meganisi is an island to the east-southeast og Lefkada. The island of Meganisi has three villages: Katomeri (the main village), and the ports of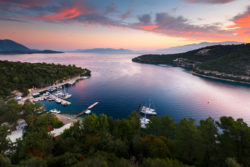 Vathy and Spartochori. The southern side of the island is dotted with sea caves including the cave of Yovani and the cave of Papanikoli. These caves were used as shelters for war ships and submarines during World War II. During the Greek Revolution of 1821, these caves were used by fighters to hide and attack the opposite coasts of the mainland. The island of Meganisi is mountainous and green.
During ancient times, the island of Meganisi was known as Taphos. The name Taphos came from the son of Poseidon who ruled the region. Taphos' rule would be followed by his son Mentes. The history of the island of Meganisi is connected with that of its neighbor Lefkada since ancient times.
In 2014, after the fall of Constantinople to the Crusaders, the island of Meganisi was passed to the Venetians. Soon after, it was included in the Dominion of Epirus. From 1294 – 1479, the French would rule the island. The island would change hands a few times again. In 1821, during the Greek Revolution, the island of Meganisi fought under Demos Tselios. Meganisi and the other Ionian islands would be united with Greece in 1864. During World War II, the island of Meganisi was under Italian occupation and many of the residents would go to the mainland of Greece to help fight the enemies.
Administrative Region for Meganisi Island, Greece
Ionian Islands
Area of Meganisi Island, Greece
22.356 km2 (8.632 sq mi)
Population of Meganisi Island, Greece
1,041
Top Attractions in Meganisi Island, Greece
Church of Agios Ioannis Prodromos – Located in Agios Ioannis. This is one of the most important churches in Meganisi Island. It's thought to have been built before 1477 AD and historians say pirates once devastated it and threw the icon of Saint John into the sea, but was found my fishermen.
Papanikolis Sea Cave – Located in Vathy, best reached by boat cruise. It is the second largest cave in Greece. The cave was a hideout for a submarine during World War II, which was named Papanikolis.
Agios Ioannis Beach – 7 km southwest of Katomeri. This lovely beach gets its name from the chapel of Agios Ioannis that is on the beach. The beach is non-organized and family friendly.
Mikro Limonari Beach – This beach is actually a cove with pretty blue-green water. The beach is non-organized and secluded.
Herniades Beach – 4 km west of Katomeri. A secluded and unspoilt beach that is surrounded by greenery. Thanks to its location, it's the perfect spot to relax.
BELOW ARE INTERESTING ARTICLES ABOUT MEGANISI, GREECE: