Epiphany/Theophany: One of the Twelve Great Feasts
Written by Andrew Athanasiou in Greek Orthodox Religious Information Comments Off on Epiphany/Theophany: One of the Twelve Great Feasts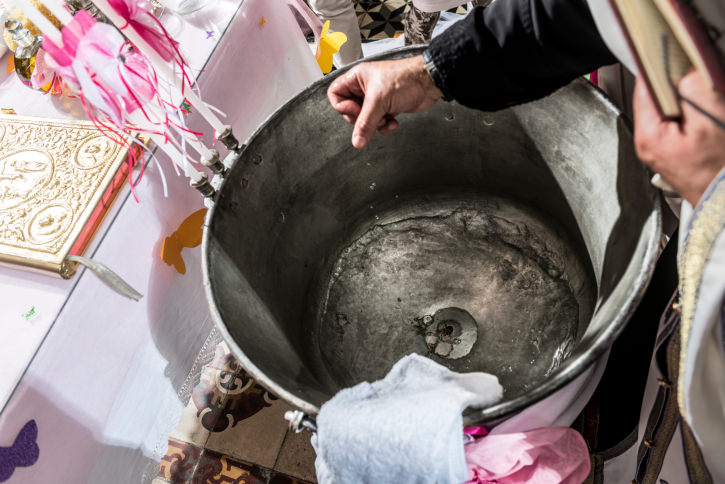 Every year, two weeks following Christmas, on January 6th, we celebrate one of the 12 Great Feasts known as Epiphany or Theophany. Epiphany means "showing forth" and Theophany means "show/reveal God." This is the Baptism of our Lord and Savior, Jesus Christ. Roman Catholics primarily celebrate the "Adoration of the Magi" (the worshiping and giving of gifts by the Wise Men we know from Christmas) on this day, while Orthodoxy celebrates the Baptism of Christ. We already celebrated the "Adoration of the Magi" on December 25th.
Three of the gospels have accounts of the Baptism of Christ (found in Matthew 3, Mark 1, and Luke 3). Each has St. John the Baptist baptizing Jesus in the Jordan River; the Spirit descends on Jesus, and a voice saying, "This is my beloved Son." The Gospel of John doesn't actually have reference to Christ being baptized. Rather, St. John the Baptist was told that the One whom the Spirit descends on and remains "is He who baptizes with the Holy Spirit." Though there is no reference to Christ getting baptized or the voice in, it doesn't mean that it didn't happen, but that John chose not to focus on it.
John the Baptist was preaching a baptism of repentance. This brings forth the question, why did Jesus get baptized if He is sinless? Matthew 3:13-15 goes into detail on this: "Then Jesus came from Galilee to John at the Jordan to be baptized by him. And John tried to prevent Him, saying, 'I need to be baptized by you, and are you coming to me?' But Jesus answered and said to him, 'Permit it to be so now, for thus it is fitting for us to fulfill all righteousness.' Then he allowed Him." The other reason that St. John Chrysostom gives for Christ getting baptized was to announce to the world that the Son of God had arrived.
At the Baptism, the Father's voice was heard and the Holy Spirit was seen descending like a dove onto the Son, Jesus Christ. This was the first apparent revelation that God was a Trinity—Father, Son and Holy Spirit. The Apolytikion Hymn (or Dismissal Hymn) of the feast says "In the Jordan when you were baptized O Lord, the worship of the Trinity was made manifest." This is why we call it both Epiphany and Theophany, because God becomes more known by us.
God has an extreme irony, because every time we come closer to Him, we seem to get more confused or have more questions. In the Old Testament, Moses asks what God's name is and he replies, "I am." You are what? Who? How? As you can see there are more questions now that we know more. Knowing that God is Trinity brings us other questions: How do you exist? Why are You Trinity? When did you become Trinity? These are questions that we have some answers to, but we can never really understand fully, just as we can never fully express what God is when He says "I am."
About Andrew Athanasiou
Andrew is a student of Holy Cross Greek Orthodox School of Theology, located in Brookline, Massachusetts. Andrew is a Masters of Divinity Student who is also a Seminarian. Andrew is from Pittsburgh, Pennsylvania, and his knowledge comes from five major sources: Greek Orthodox Seminary; Greek Orthodox Summer Camp; both being taught and teaching in Greek Orthodox Sunday School; and finally further readings and interests in other theological areas.
Categorized in: Greek Orthodox Religious Information
This post was written by Andrew Athanasiou
Like this article? Please share below: