Orthodox Saint Charitina History and Name Day Information
Written by Greek Boston in Greek Orthodox Religious Information Comments Off on Orthodox Saint Charitina History and Name Day Information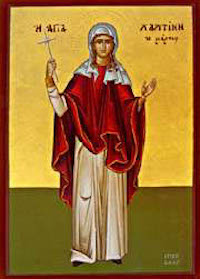 It is so important for Orthodox Christians to learn about the lives of the saints! Each year, the church sets aside certain days for each of the saints. Known as feast days, they are a chance for us to get to know the saints and pay tribute to their lives. Those of us who are named after the saints have the honor of celebrating their name days on the saints' feast days.
Saint Charitina is one of those saints whose lives we celebrate. Her feast day is on October 5th of each year, and those who have been named after her would celebrate their name days on this day. Here's more information about who she was and the impact that she made on the Christian faith:
About Saint Charitina
Saint Charitina, also referred to as Charitina the Martyr, was alive during a time when Christians were heavily persecuted by the Roman Empire.  At the time when she was alive, Diocletian was the Roman Emperor. His rule was a turbulent one, filled with many conflicts. His persecution of Christians we memorable and is often referred to as the Diocletian Persecution.
Charitina, at the time of his reign, was a handmaiden to someone named Claudius, who was part of the court. She was a secret Christian, but her religious leanings were betrayed to the count. When asked if she was a Christian, she boldly declared that she was. She was arrested on the spot, tortured, and succumbed to the torture, thus making her a martyr for her faith.
Hymns of Saint Charitina
Saint Charitina's feast day is on October 5th of each year. Here are the hymns that are either chanted or sung on her feast day:
Apolytikion of Martyr Charitina – Fourth Tone
O Lord Jesus, unto Thee Thy lamb doth cry with a great voice: O my Bridegroom, Thee I love; and seeking Thee, I now contest, and with Thy baptism am crucified and buried. I suffer for Thy sake, that I may reign with Thee; for Thy sake I die, that I may live in Thee: accept me offered out of longing to Thee as a spotless sacrifice. Lord, save our souls through her intercessions, since Thou art great in mercy.
Kontakion of Martyr Charitina – Fourth Tone
Reddened with martyric blood, thou wast arrayed in Heaven's beauty splendidly, when thou hadst overcome the foe, O Charitina, and thou didst cry: Thou art the joy of the Martyrs, O Christ our God.
Saint Charitina one of the early saints of the Orthodox Christian Church. Her feast day is on October 5th of each year.  Check the Name Day page for more information about other Orthodox Christian name days.
Source:
Diocletian Persecution – Wikipedia
Categorized in: Greek Orthodox Religious Information
This post was written by Greek Boston